The Tiger Meet of the America (TMOTA)
The TMOTA is a biennial gathering of units sharing a Tiger or big cat emblem, or heraldry, in North America. The aim of the week long TMOTA is intensive flying and complete tactical exercises to create a peacetime bond between NATO partners, as well as a learning and understanding tactics and weapons systems between the participating nations and units.

Hosted by the 'Bold Tigers' – the F-15E-flying 391st FS at Mountain Home Air Force Base – in October 2005 a total of 7 units with 25 aircraft and 321 personnel participated in this TMOTA. This particular F-15E was one of the hosts during this third TMOTA. The 1:144 Revell kit was released in October 2011 and was a one of the new injection mold "New Tool" label. Very good surface details and clean crafted parts. The small, well-designed cockpit with the ejection seats are real eye-catchers. The nozzles needed much rework to recreate the original. At this time I did not do ... maybe next time. The wheels and wheel wells are well done. Four AIM-9 Sidewinder, two AIM-120 AMRAAM, and two external fuel tanks are included.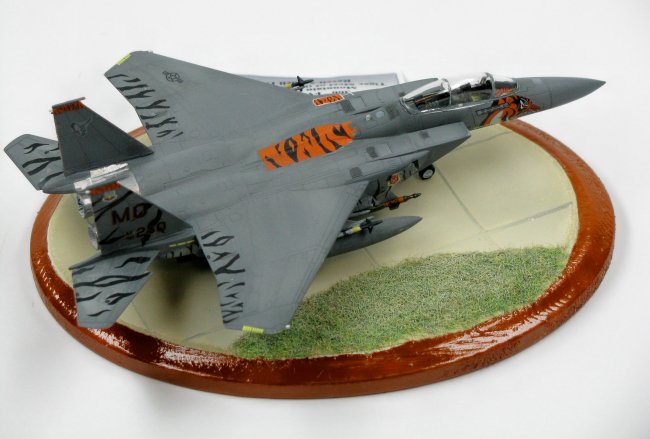 On the illustrated aircraft, the decals are printed adequate and clean. As with most of my models this kit is also out of the box. On a small wooden base the model gives a nice little table top. The Eagle was airbrushed with Acryl Vallejo Model Air Color. Very small and soft weathering, because I think, "Clean the machine" is a major pastime of maintenance crews during these event.
Gerd Wilcken