I present two models in 1:144 scale made by Japanese manufacturer Sweet, Me-109F-4, in –what they call "the winter edition". Even if the cover image of the sweet-aircraft shows the typical Japanese Manga motifs, there are very high quality and detailed models. The Me-109F-4 represented two planes of the of JAGDGESCHWADER 54 "Grünherz", during Russian winter operations in 1942.

I built these Me-109`s "out of the box" and I put more attention into painting and here specifically the quite difficult and dedicated winter camouflage. Thus, as with the original, first standard German camouflage colors were applied, and then covered by parts of white. Aging with ink. I used different shades of colors from the company Vallejo Air and Revell Aqua Color. All colors were applied with airbrush, details in the cockpit area with 0 and 00 brushes.

Especially in the Russian theatre all equipment suffered from the winter, mud and dirt were common all over. Even the planes look dirty on original photos and very strong signs of wear can be seen.

I hope I have implemented this winter feeling well.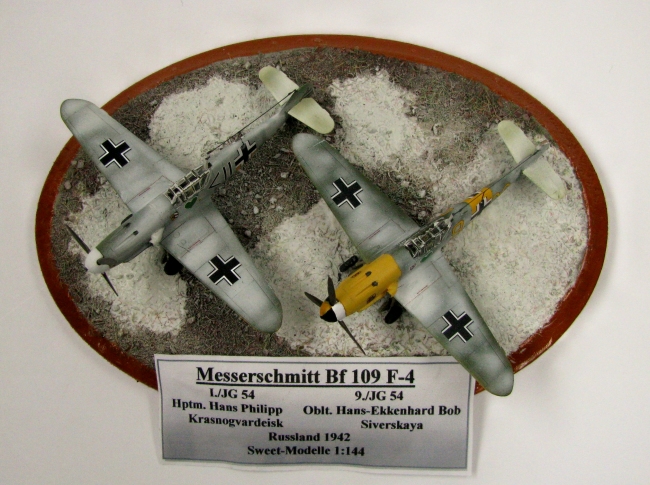 After 40 years of modeling I'm slowly came to the limits of what is possible spacewise in my home and so I am - with exceptions - specializing in the 1:144 scale. After all these years, where 1:144 models had more toy character, today a lot of good and very good models are on the market.

Even with small models, in less space, modeling makes a lot of fun.
Gerd Wilcken