1/144 Airfix Saturn V and DM Productions LUT (Launch Umbilical Tower)
The Apollo missions have fascinated me since childhood. Being a child of the sixties, I can (just) remember Neil Armstrong and Buzz Aldrin landing on the moon as we had the day off school so we could watch it in flickering black and white television (Australia didnít get colour until 1975). After taking my family to the USA for a holiday which included a visit to the Kennedy Space Center and the Apollo Building, I knew I had to finally build this kit.

After getting the kit for a good price, I started on it almost immediately but realised something was missing. During my research I saw a number of photos of this model and realised it was missing something Ė the LUT; the rocket just looks wrong without it. I started searching for a kit. There are a few but theyíre generally made of metal and very expensive. Then I hit upon DM Productionsí kit. This is a paper (yes, paper) kit which comes printed on high-quality paper sheets which you need to cut out to shape. Worse, Iíd seen a completed kit which some lunatic Japanese modeller had put lighting into Ė I knew I had to do that, too. Another thing that surprised me in my research was that NASA had three of these originally. Two were converted to suit the Space Shuttle but the final one stayed in its original form until 1991, as NASA hoped to one day get enough funding to send more Saturn V missions aloft. Eventually, rust and asbestos meant the LUT had to be dismantled and its only remaining piece is the last two top sections and crane displayed in the Apollo Centre at the Kennedy Space Center.

The LUT was tackled first but I needed to dry fit the Saturn V major components as I needed the rocket in place to fit the swingarms into the correct position during assembly. Iíd decided on a central lit tower internal to the LUT to provide the light with fibre optic lengths running to the required lighting points and small jewelled decorations (from my local Spotlight store - noted while shopping there for one of my wifeís hobby trips) to provide the light itself. The lighting project was a decision which extended the build on the tower dramatically. I asked David Maier (the author of the drawings) for some pdf copies of the swingarms as I decided to cut the walkways out so they were open, as per the real thing and the lights could be seen (David drew them as boxes for strength). Gluing the reverse images to the original drawings gave me the desired effect. Eventually, with an unusual selection of modelling tools and the go-ahead to build in the lounge room instead of being banished to the modelling room, the monster was completed.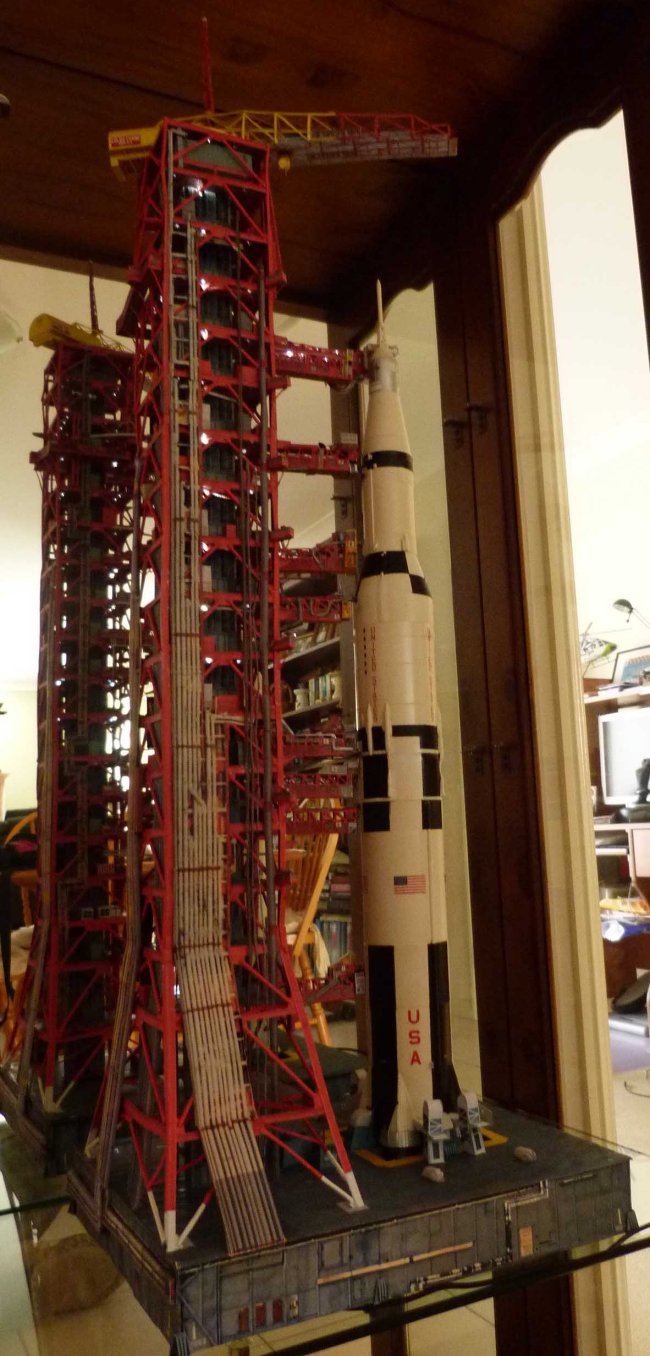 With that complete, the Saturn V was next. This was pretty simple. The kit goes together easily and most of the parts are large and there arenít too many of them, so the main components were completed in a few days. Painting was next. Each of the Saturn Vís was marked slightly differently, so itís important to check your research for the vehicle you want Ė I wanted Apollo 11. I was really happy with the way the model looked on its launcher in its specially-purchased display cabinet (yes, I have a tolerant wife!). Next up the Future coat Ė and disaster. I didnít leave the Humbrol enamels long enough to cure and the Future coat caused the white to become off-white. Disheartened but determined to plough on, I decalled the model, recoated it in a slightly-flattened Future coat and surveyed the results.

The Airfix kit has been around for decades but still scrubs up well (as long as you donít make the white change colour!) with a bit of work. It looks magic on the LUT and Iím really glad I bought it to display the rocket on. Overall, my visitors comment on it often as itís in a conspicuous place where you canít miss it and it does look good at night if I turn the lights on. Overall, Iíd recommend both kits highly. Now, where did I put that model of the Crawler Transporter to go under the LUT that I also bought from DavidÖ
Rob Nieuwenhoven