Hello All,
I thought I would send in some pics of my old OH-58A Kiowa. It's a very old kit from Italaerei (Yes at this time Italeri was called Italaerei). Originally from IMC, it was re-issued by Hawk,Testor, Italaerei, then re-reissued by Revell
I built it in 1983, I was a young modeler at this time. I had no PC, no access to the web and just 3 photos of a Kiowa
Of course, not enough reference material to do a good job. It's why you can see a few inaccuracies:
I didn't modify the rotor diameter nor the tail boom length, (the original kit is a civilian Bell 206 JET RANGER)

I had no idea on how the inside of the military aircraft looked, so I installed the civilian seats with a scratch build instrument panel.

The inside color match perfectly with the reference photo ... but the color of the photo was wrong
The shape of the windshield was completely wrong. I made a new windshield vacuformed on a plaster form. The first years the windshield was clear as crystal. But after a few years the plastic became yellowish and it becomes increasingly brownish and opaque. It is really time to rebuild my Kiowa!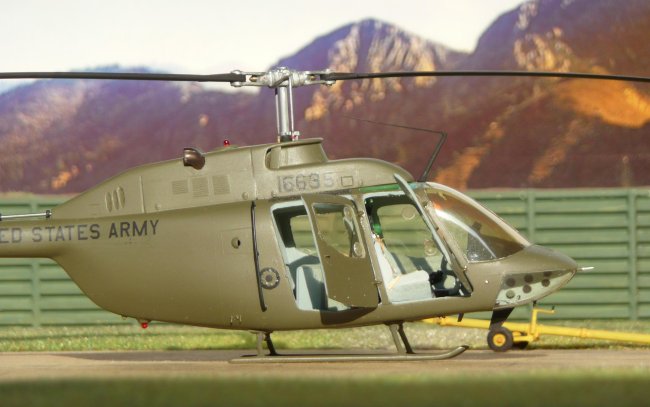 As you can see, far away of a perfect model. By publishing this article my only goal is to tempt a talented modeler to embark on the adventure and to show us how to make a « real 1/32 OH58A » by converting this old kit.
Patrick Nabinger