F-111F Aardvark, Libya 1986
In Memoriam, Majors Fernando Ribas-Dominicci & Paul Lorence, USAF
This build is dedicated to the memory and families of Maj. Fernando Ribas-Dominicci (pilot) and Maj. Paul Lorence (WSO), USAF, the crew of the only aircraft lost in action over Libya in Operation El Dorado Canyon.

The basic story of Operation El Dorado Canyon is well-known to most who follow military aviation. The fact that it was the U.S. military response to repeated terrorist attacks backed by the Libyan regime combined with an illegal claim to the entire Gulf of Sidra, plus the fact that it was the longest air attack ever to be flown due to international politics is well documented. Less well known are both the established and speculated details regarding the only aircraft lost in the attack, F-111F 70-0389, flown by Capt. Fernando Ribas-Dominicci with Capt. Paul Lorence (both posthumously promoted to Major).

As the strike force rejoined on their tankers after the attack, it became clear that one aircraft, call sign "Karma-52," was missing. Hopes that it was suffering radio failure and had diverted to an alternate base were soon dashed as some aircrews reported seeing an airborne fireball, later confirmed by Libyan media displaying wreckage recovered from the Mediterranean including the WSO's helmet.

A number of theories were publicly offered as to the cause of Karma-52's loss, weapons malfunction, electromagnetic interference (EMI) induced crash, and even the pilot error, which must have added horrific insult to injury to the bereaved families, who had not been given the chance to say goodbye due to the secrecy of the mission.

After a time, the remains of Maj. Ribas-Dominicci were returned (no such closure has met the family of Maj. Lorence). An autopsy, combined with several other factors, has led to a growing body of opinion that Karma-52 was shot down.
These include:
Major Ribas-Dominicci's cause of death was determined to be drowning, with no other signs of trauma. A crash would have resulted in massive physical trauma, including broken bones and internal injuries, to say the very least.

At least one other pilot reported seeing a fireball appear slightly ABOVE his altitude, and Navy pilots reported seeing it descend several hundred feet before impacting the water.

The aircraft directly in front of Karma-52 was apparently successfully tracked by a SAM as the element of surprise was lost.
The following theory has been assembled based on these and other factors: that Karma-52 was hit by a SAM, the crew ejecting in the aircraft's escape capsule. The capsule promptly sank, possibly from damage sustained in the aircraft's destruction which compromised its watertight integrity.

Majs. Ribas-Dominicci and Lorence were nominated (posthumously) for the Silver Star, but were turned down. Even so, I would guess their families, given a choice, would prefer real answers, and especially the return of Maj. Lorence, but to date they have none of these. Nothing a mere modelmaker such as myself could ever say could possibly lessen these pains.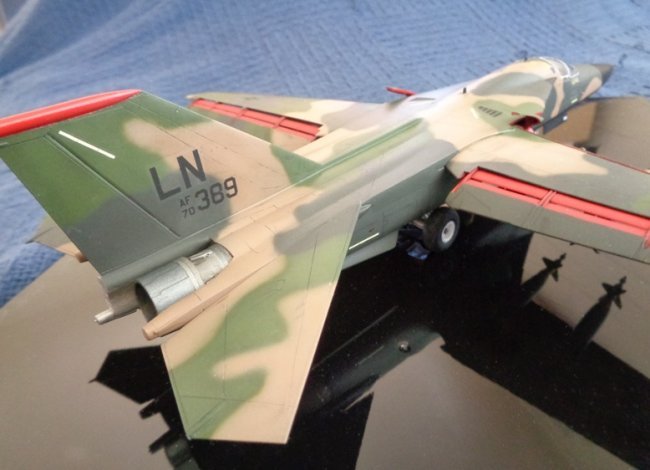 The fact that this is the 1/72 Hasegawa kit built mostly OOB except for some modification of the Pave Tack system seems insignificant compared to the intent of the build.

My kindest thanks to Jim Rotramel, F-111F WSO (ret) who was kind enough to provide personal guidance on this sorrowful subject. Additional thanks to all who put their lives in harm's way in the defense of their homes, families and values.

Apologies for the photography, which pales in comparison to much of what I routinely see here on ARC.
"Andrew D. the Jolly Rogers guy"