For your viewing pleasure here is my article and some photos of my 1/48 Scale Hasegawa Mitsubishi T-2 "Early Version".

When the Japanese Air Self-Defense Force (JASDF) began to transition from the F-86 to higher performance aircraft, they realized that the jet trainers of the day were inadequate for training pilots for the next generation aircraft. At first, the American T-38 Talon was considered a candidate for licensed Japanese production. However, the final decision was made to develop a domestic design from the ground up.

In 1967, Japanese aviation firms Fuji, Kawasaki, and Mitsubishi, each submitted proposals, and in September 1967, Mitsubishi's design was selected. A contract was issued for the development of the XT-2 in March 1968, with Mitsubishi as prime contractor and Fuji as Prime sub-contractor. Several other subcontracts with aerospace firms and other minor aviation manufacturers were also established.

By March 1969, the design had been finalized, and the XT-2 prototype rolled out on 28 April 1971. It performed its maiden flight on 20 July 1971. The XT-2 was followed by three more prototypes, and became the first aircraft of Japanese design to break the sound barrier in level flight. Two of the four prototypes were armed, and the other two were not. A total of 90 production T-2s were built, the last T-2 rolled off the assembly line in 1988.

Construction
Building the Hasegawa T-2 was fairly easy just by following the well illustrated seven step instruction guide. The parts fit for this kit was excellent, just some seam filling and sanding was all that was required. There was just one area that presented some difficulty and that was building the main landing gears, they were a bit tricky to put together. Just to be on the safe side, I installed a lead weight in the nose to prevent any tail sitting.

Painting
The model here shows the paint scheme of the 22nd Squadron of the J.A.S.D.F. Matsushima A.B. 1981. All paints are MM and Floquil enamels.
Overall body MM Flat Gull Gray

Red areas Floquil Signal Red

Orange areas MM International Orange

Nose cone MM Gloss Black

Glare shield Gloss Black

Exhaust area MM Burnt Metal

Exhaust cans Floquil Bright Silver

Landing gears MM Flat White

Wheel bays MM Flat White

Bay doors inside MM Flat White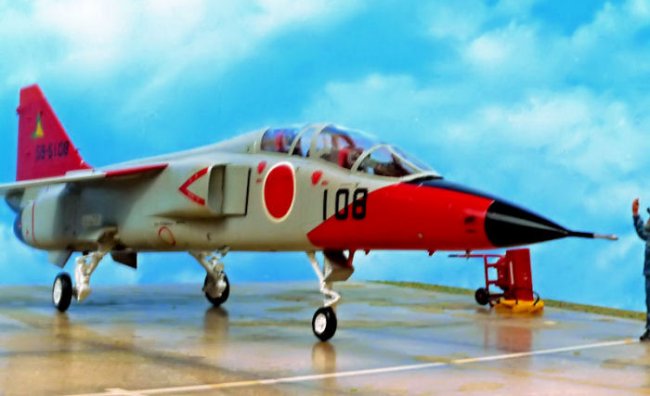 Decals
The Hasegawa T-2 kit provides a single decal sheet that has decals for six aircraft. I chose to use the decals for the aircraft with the tail code 59-5108. The decals performed beautifully, easily placed on the model with no silvering.

Comment
With excellent detail, good fit, and good decals, the Hasegawa Mitsubishi T-2 is very buildable. It was a relatively easy build with a very impressive finished model.
Burt Gustafson