Pro aeromodelling
German RC-pilots need your help!

I guess man of you like RC-planes and some of you are aeromodellers, too.

German politicians want to forbid flying higher than 100 m (330 ft) above ground with RC-models.
The reason therefore was the misuse of RC drones (12 incidents, all by drone pilots who were not real modellers!). The politics makes no difference between RC-models and RC-drones. This would be the end for most aeromodellers, especially gliders and larger models. But not only for the modellers themselves, it would also destroy the RC-model industry in and around Germany.

A petition was started to avoid this silly law. It ends at the end of May 2016.

To take part click on the following link:

http://www.pro-modellflug.de/petition/

Type in:
Your name (Vollständiger Name)
Postal code / village (Postleitzahl Ort)
Street / No. (Straße Hausnr.)
E-Mail
You can also take part anonym, when you click on "Anonym bleiben".

Thanks a lot for your support!

And now, about the model: Once I bought a model kit in ebay. The previous owner added the simple kits of this funny looking airplanes as a present to it. At the first moment I was not sure what to do with them, but the actual situation brought me to the idea to build them as RC-planes.
The planes were designed as gliders, but as they have such small wings, I decided to convert them into motor planes. So the white one I build with almost no modifications. I just added the running prop to the nose. The second one got a open cockpit with a small pilot (Preiser, 1:87) in it. Further I installed a
pylon with a push-prop above the fuselage.
The RC-pilot is a figure in 1:48. Years ago I bought some of them (also ebay) to use them as civil pilots for 1:48-models. I modified his arms, gave him a selfmade transmitter and a cap. The flag was also built from scratch. I heated a thin sheet of plastic and glued it to a carbon fiber rod.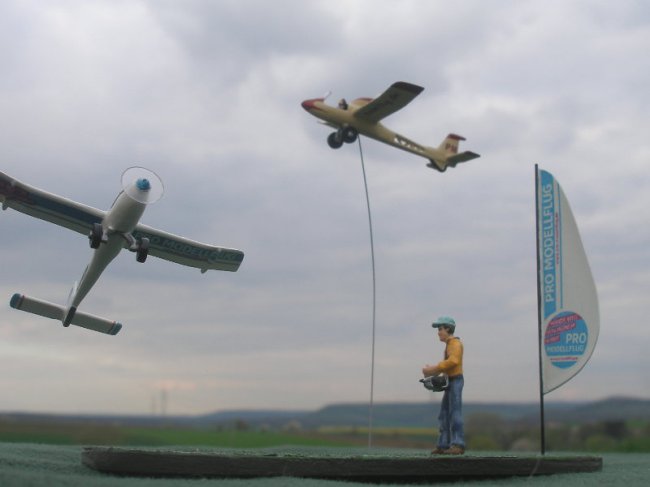 The base plate is out of wood. To imitate the grass I glued rough sandpaper on it and painted it with olive and green by using a sponge.

After I printed and attached the decals, I sprayed clear, silk varnish over it.

I hope you enjoy my model of models-project! And please don´t forget to take part on www.pro-modellflug.de!

Greetings
Thomas Brückelt