The Heinkel He 219 Uhu ("Eagle-Owl") was a night fighter that served with the German Luftwaffe in the later stages of World War II.

A relatively sophisticated design, the He 219 possessed a variety of innovations, including an advanced VHF-band intercept radar; itself also used on the Ju 88G and Bf 110G night fighters. It was also the first operational military aircraft in the world to be equipped with ejection seats, and the first operational German World War II-era aircraft with tricycle landing gear.

Had the Uhu been available in quantity, it might have had a significant effect on the strategic night bombing offensive of the Royal Air Force; but only 294 of all models were built by the end of the war, and these saw only limited service. ( by Wikipedia )

This model is from Czech manufacture Mark I models, one of their new tool 1/144-scale kits.

The He 219 kit is apparently the first time this night-fighter has been kitted in 1/144-scale. Mark I Models also offer it in He 219A-5 form.

The kit comes packed in a good quality card box with artwork on the front, and a painting and decaling guides for the four decal options on its rear. All parts are sealed in a plastic bag, with the PE fret sealed separately in its own smaller bag. The decals are loose with the kit sprues. This kit also includes a color printed card Luftwaffe airfield base for display of the finished model.

Unlike some other Mark I Models releases, this one is not a two-kit boxing.

The instructions are formed by a multi-page fold-out sheet with color printing. They include a parts map, and very well-drawn assembly diagrams that are easy to follow. The all English instructions include a four-view colored painting and markings guide for each option, with RLM paint numbers included for the main colors.

All kit parts are nicely molded with fine recessed panel line detail. However some areas needed a little makeover.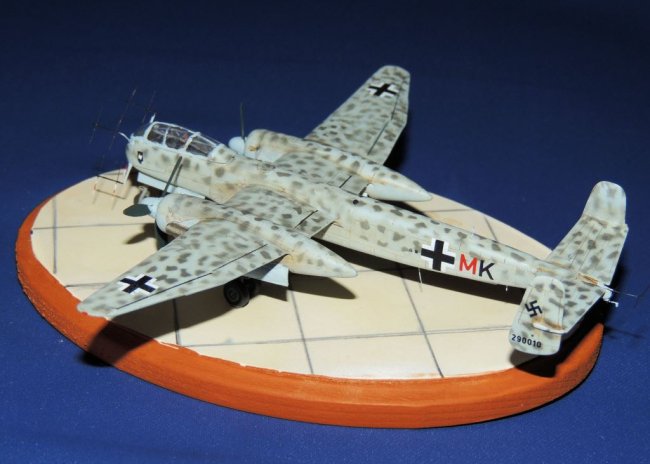 The cockpit is nicely formed with PE seats, seat harnesses, rudder pedals, control column and instrument panels. This is plenty of detail and needs careful work with really steady hands. The canopy is clear and thin, but to make it honest to say there's not much to see later from the cockpit and the beautiful details.

This rest of the kit is easy an nice to build as the wings and horizontal stabilizer are both one-piece moldings; with only the twin tailfins, engine nacelles and radiators to add to compete the main structure.

And at last some very very tiny(!) remaining PE part for aileron mass balances, DF and other fuselage antennae, and the famous nose radar. Especially this is challenging and fiddly to assemble.

I added the front and aft radar after painting and decaling is completed.

The addition of a display base is a nice touch, representing a hard-stand area with concrete paved squares.

The four color schemes are:
W.Nr 310193, Luftwaffe, Germany, spring 1945;

Black/Red G9+SK, 2/NJG.1, Luftwaffe, Munster-Handorf Air Base, Germany, spring 1945;

Black/Yellow D5+CL, 3/NJG.3, Luftwaffe, Grove Air Base, Denmark, April 1945;

Air Ministry 22, Royal Aircraft Establishment, Farnborough, England, 1945-46.
I used Vallejo colors for airbrush. Grey spots produced by using Eduard PE Mask. Detailing and weathering with ink and diluted oil colors. The decals are very good. At last a Vallejo matt finish.

By the delicate PE parts this kit is for more experienced modelers, but nice to build….but at the very end I saw the photos and find that I forget the main top antennas! I promise, I will add it.

Enjoy the photos.
Gerd Wilcken