This time two models shown for the price of one. One Hasegawa 1/72 F/A-18A blue 46 from US NAVY NSAWC in 2004-2005 at Fallon NAS Nevada accompanied by one Fujimi 1/72 F/A-18A desert 44 from the same unit. For years I'm a great fan of Navy adversary planes and camouflages. The blue scheme represents the hornet Bu number 162834 Lot 8 and the desert scheme represents the hornet Bu number 162906 Lot 8. I'm not sure they are always flying or in stock at AMARC after a hard life of air combat training. I used decals sheet from TWOBOBS 72001 for 46, and decals sheet from FIGHTERTOWN 72001 for 44 they are both accurate but very fragile to fit.
I followed decal manufacturers instructions regarding colors.
46 upper dark blue FS35109 Gunze H322, clear blue FS35450 Humbrol 47, grey FS36375 Gunze H308

44 upper brown FS30140 Humbrol mix 110/113, sand FS30279 Humbrol mix 121/118, green FS34095 Humbrol 80

same lower colors for both models : 3 greys FS36375 Gunze H308 for wings, FS36495 Humbrol 147 for lower fuselage and FS36440 Gunze H315 for sides.
I added black juice for weathering the panels (Fujimi kit is better engraved and more detailed) plus flat varnish Humbrol 49 to fix decals and add sun weathering.
I added only external centerline tank and no weapons for better maneuvrability during fake flight combat and decided to show canopies opened and airbrakes for both models to expose cockpit. Fujimi kit is better detailed so you can see the ladder and an opened radar cone.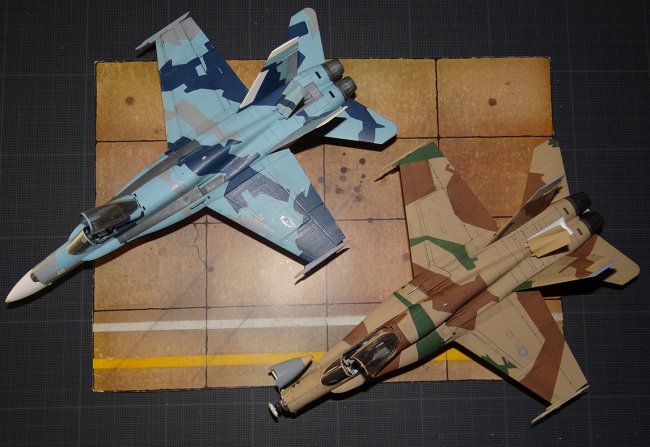 NSAWC (Naval Strike Air Warfare Center) ex Top Gun school is the center of excellence of new combat tactics and training for Naval and Marines pilots. Now it was renamed Naval Aviation Warfighting Development Center (NAWDC). Planes used nowadays are Hornet F/A-18A/B/C/D perhaps no more A & B and Super Hornet E/F, Falcon/Viper F-16A/B, Growler EA-18G electronic attacks jets and SH-60R/S choppers.
Top Gun spirit never left my mind!
Jean-Charles Goddet