The Fairey Firefly was a British Second World War-era carrier-borne fighter aircraft and anti-submarine aircraft of the Fleet Air Arm (FAA). It was superior in performance and firepower to its predecessor, the Fulmar but entered operational service only towards the end of the war. Designed to the contemporary FAA concept of a two-seat fleet reconnaissance/fighter, the pilot and navigator/weapons officer were housed in separate stations. The design proved to be sturdy, long-ranging and docile in carrier operations, although the limitations of a single engine in a heavy airframe reduced its performance.

The Fairey Firefly served in the Second World War as a fleet fighter but in postwar service, although it was superseded by more modern jet aircraft, the Firefly was adapted for other roles, including strike operations and anti-submarine warfare, remaining a mainstay of the FAA until the mid-1950s. UK and Australian Fireflies flew ground attack operations off various aircraft carriers in the Korean War. In foreign service, the type was in operation with the naval air arms of Australia, Canada, India and the Netherlands whose Fireflies carried out a few attack sorties as late as 1962 in Dutch New Guinea.

(Taken from Wikipedia; https://en.wikipedia.org/wiki/Fairey_Firefly)

This is my Airfix firefly. I got it half finished from a friend of mine and used it mostly as an exercise in airbrush painting (which I'm still not very good at). The kit is old and a bit basic, but has a nice shape and acceptable clear parts, so I just finished it and stuck it on the shelf. I used the kit's decals for a machine used during the Korean War. The decals worked fine, but the black and white ID-stripes were a hassle to get on. I didn't do any detail work, except making some new thinner tail rings for the bombs from a drinking straw.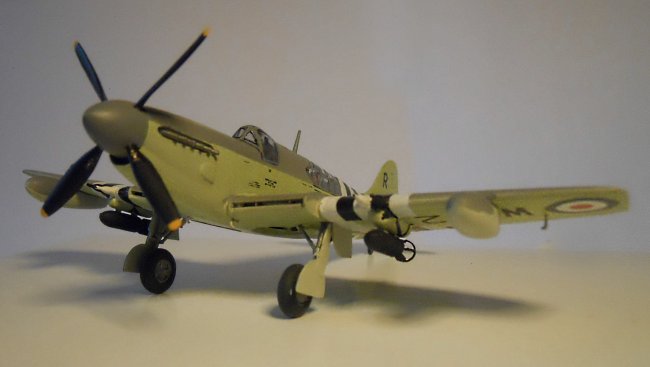 The kit is easy to build and looks nice. With the addition of the detail set and wing fold from Airwaves, wheels from Barracuda Studios and New cannon fairings from Master, it could be a show stopper.
Ole A. Hoel