During the build up of Desert Shield, 18 planes of the 390th ECS "Wild Boars" deployed to Taif Air Base and were attached to the 48th TFW(P). Before hostilities commenced, the squadron was further augmented by aircraft from the 42nd ECS based in Europe. Although unarmed, the Raven provided essential jamming of Iraqi radars for Coalition strike packages. During the initial phase of Desert Storm, the Raven was a "no-go / go" asset for strikes into Iraq. As a testament of its effectiveness, of the 38 fixed-wing Coalition planes lost, only 3 were shot down by radar-guided missiles and only when Ravens were not present to provide support.

Unfortunately, one Raven was lost and the crew killed on February 13th, 1991 shortly after crossing the Saudi / Iraq border. That night, a F-15E crew witnessed the plane ejecting flares and performing "split-S" maneuvers, before descending sharply and crashing into the ground. Neither AWACS or the F-15E crews detected any other radar contact; it was determined the Raven crew flew into the ground while evading a perceived threat.

Like my other Academy F-111 builds, this one also includes extensive use of aftermarket items:
Black Box EF-111A cockpit set
Paragon flaps and slats
G-Factor engine exhausts
Scaledown F-111 "light" wheels
SAC landing gear / front wheel bay
Other modifications include: cutting the engine intake cowl and moving it forward to represent a plane with the engines powered, cutting open the canopy, adding Hasegawa crew figures, repositioning the AN/ALQ-137 receivers on top of the fuselage, and removing the dome of the ALR-23 infrared scanner at the back of the "football" atop the fin.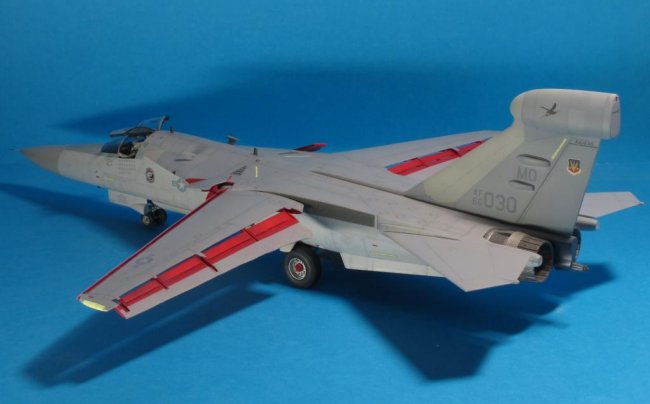 Painting was primarily done with Gunze Sangyo Aqueous Hobby paint. The topside is FS36230, while the underside is FS36492 which is not readily available as a hobby paint. As a substitute, I used FS36495 with white added. The radome colour is a mixed colour as well.

There are no decals for a Desert Storm plane, so mission markings and similar markings unique to the conflict were custom made with an Inkjet printer. I choose to represent 66-0030 because I had the most reference photos of this particular plane. The crew names on the right gear door where improvised as I did not have any reference photos for that area. Many of the decals where taken from various decal sheets, typically in black, and faded by over-spraying using my airbrush and diluted paint. Four of the decals from SuperScale 48-394 were used, including "Raven" on the rudder, and the squadron / wing badges.
Benner