Here are some photos of my Lippisch DM-1 second stage (Bird Models) on Siebel 204A (Kopro) in 1:72.

As it was planned to carry the experimental glider DM-1 on a Siebel 204A into the air, I decided to combine this two models.

Kopro offers a very nice decal sheet for the DM-1 (3rd stage) mounted on top of their old kit of the Siebel 204A in a very good quality. You can find the kit of the delta wing glider under the name "DM-1 Entwurf 2" in
the ebay-shop "Rudolfs Bird Models".

The resin kit of the DM-1 - never realised second stage - got some modifications according to a side-view I found in the internet. I gave some more details to the cockpit (tubular structure for the sides, stick and pedals). The vertical stabilizer in the kit was too large. I corrected the shape and made a separated rudder, because it should have a gap. Also the control surfaces of the delta wing have a gap. To connect the parts I used heated and stretched sprue.
The manual of Kopro´s decal sheet shows the DM-1 painted in camouflage, but I think for an experimental glider tested by the German Luftwaffe a simple grey paint scheme would be more realistic. Wingtips, canopy frame and pitot tube were painted red to make the model more attractive. After attaching the decals I sprayed clear, silk varnish over it.

It´s difficult to find the old kit of the Siebel 204A, especially if you want to pay a fair price. I found one after I searched a little while in ebay.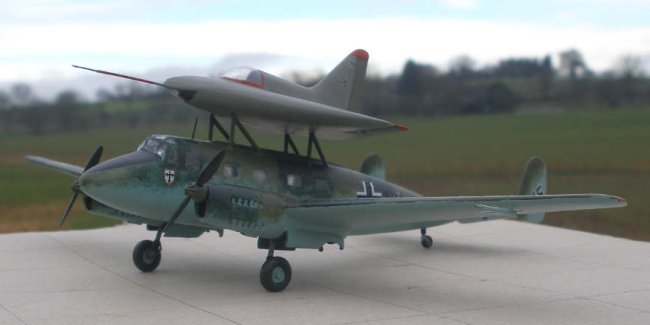 I built the kit out of the box and I was surprised how fine the structures of the surfaces were made. I needed some putty, because the fitting accuracy of the old kit is not the best. To connect both models I built holders made out of carbon fiber rods and fitted them on the back of the twin engine aircraft. After the Siebel was painted, provided with the decals and sealed with clear varnish, both models were combined.

So another project showing the way to the planned ramjet fighter Lippisch P.13a expands my collection.

Best wishes.
Thomas Brückelt