Continuing on with my attempts at combining air and ground, this photo session (yes, it's not a proper diorama) came about because I, like many mainly aircraft modellers, have a vague interest in aircraft carriers.

I started with the Fujimi waterline kit. Knowing next to nothing about ships or ship kits I hardly knew what I was buying. I guess now that this is an older kit. Best thing about it was the box art - worst, the fact that the art didn't much match the box contents. The former shows Avengers and Hellcats, for example, while the kit has a generic sprue containing a handful of Swordfish, Wildcats, Seafires and Corsairs. More annoying, the art focuses on the rear of the ship and the small AA guns there - which are simply absent from the kit completely, although they are included for the ship's sides (but don't look like much of anything without the characteristic shields so I added those from very thin card). I also opened up what I think is called the fantail: too solid on the kit. Lastly, as a sort of affront to any patriotic Englishman, only ship markings in the kit are a Red Duster rather than a White Ensign - I mean, I don't know much about ships, but really . . .
That the Swordfish is ex-Matchbox should tell you all you need to know: clunky moulding, basic detailing, but essentially good enough. Only the wing spars and rigging present any possible problems.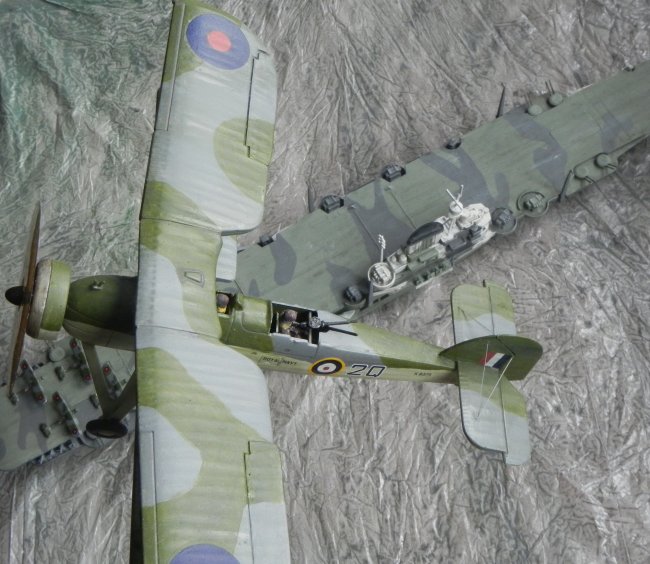 For the photos, I made a sea from an old plastic shopping bag glued lightly to a hard base and then painted with watery acrylic. It seems to look just about convincing although I think crinkled cooking foil would be a viable option.

The plane is supported via a length of thick wire thrust into one of its lower wings and held off-camera by a Lego support. Otherwise, nothing special was used to achieve these pictures. And they turned out nicely enough for me to repeat the idea with other carrier/plane combinations . . .
Greg Kerry