This is my second racer, an Hasegawa kit dedicated to the two racers prepared by two former Bell test pilots, after the war. Jack Woolams and Tex Jonston formed the Skylane Unlimited just to fly at the Cliveland Air Races with two lightweight aircraft removing the weapons and anything else not essential.

The Cobra, painted in red, fell into Lake Ontario in 1946, killing the pilot. While the Cobra II (the subject of my model) won the race, but did crash in 1969 during an attempt to beat the speed record for propeller aircraft.

Jonston continued his activities at the Bell and after at Boeing, and became famous for having completed with a four-engine Boeing 367 a barrels roll over Lake Washington in 1955 in front of incredulous spectators. He died in 1998.

The four blade propeller is in metal and has been fully painted, including the yellow ends.

All moving parts were painted in black. The Hasegawa provides the decals, which however, I have retouched at different points, as they do not fit perfectly, especially in the lower part of the ailerons.

To the landing gear I added brake lines, some in rubber part and some in aluminum.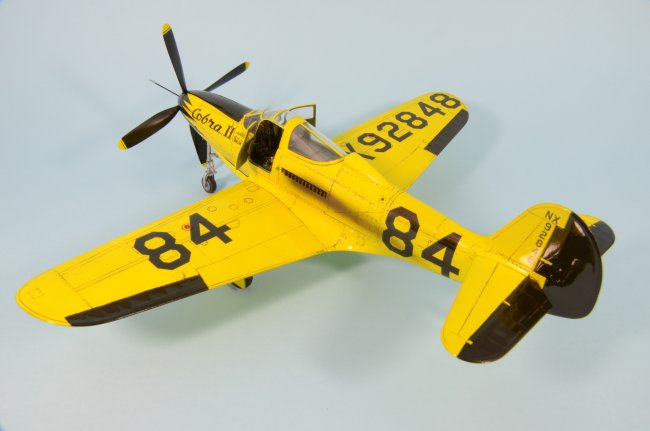 My best from Italy!
Ermanno Bonafin