The MDM-1 Fox is a polish, two-seat aerobatic glider. All aerobatic figures can be flown with it. A detailled description can be found here: http://www.sagach.ch/Eng/fox_en.htm

The model I made bases on my own resin kit, but I added a cockpit and painted it in the colours of the D-6669, which belongs to the "Förderverein Segelkunstflug im BWLV", which is a club for aerobatic gliding in south/west Germany (www.segelkunstflug.com ).
The D-6669 was built in 2011. Klaus Lenhart (LEKI) supported the aerobatic club, without his help we wouldn´t have this excellent plane now. Unfortunately he died in an accident in 2012, that´s why there is the black banner on the vertical stabilizer with the words "In memory Klaus Lenhart" on it.

The basic model is very simple to build, as it has no cockpit. I decided to make my models without cockpit, because most people who buy them are hobby pilots and not experienced modellers. My Fox-kit includes decals of the D-6660, which belongs to the same aerobatic club.

For the cockpit, I built the stick, pedals, levers for airbrake, cable release and microphones out of spure. The instrument panels and the backrests were made out of deepdrawn plastic sheets.

I sandpapered the mould for the canopy out of balsa wood and deep-drew it. After I filled some gaps with putty and sanded the model, I added the pitot tube to the vertical stabilizer and the triangular sights to the wings, which show the right angles (45°/90°) in aerobatic figures to the pilot.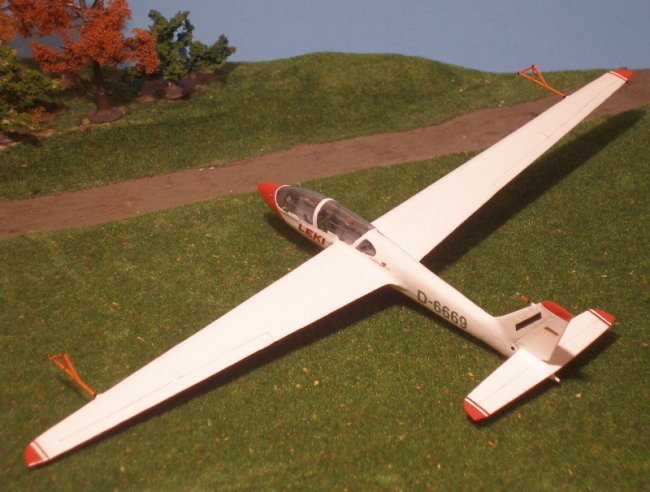 The model was painted with brush, the decals I printed on foil from ACT. In the end I sealed the model with gloss varnish.

Here I made a video of a training flight: https://www.youtube.com/watch?v=MC1SN6Ab6Xg

As you can see it´s a lot of fun flying this machine. And of cause, as I´m flying the real one from time to time, I wanted to have it as a model in my collection.

Greetings
Thomas Brückelt