Some years ago, a friend of mine was cleaning his cellar and he had a model of a steam locomotive, that was given to him when he retired. He offered me that thing and I was thinking to scrap that "model"! The boiler was made of an old gas-bottle and the chimney and the dome was welded on top; the thing was rather heavy ( some 30-40 kg!!) and it didn't resemble a real model steam locomotive!!

But our oldest daughter is a teacher at an infant school and I thought, with some adjustments, the locomotive could maybe start a new life amongst those toddlers!? With a new appearance and made kid-friendly, it could become a hit!

I started with removing the old paint and some items that were put on the boiler. Keeping the real Thomas in mind, I had to create some new tenders and improve the cab of the loco, according to the real thing!

It had to be done with the safety of the kids in mind so I had to take care to sand everything very smooth and leave nothing that could hurt those toddlers. The (real) coal in the bunker was washed and glued on the model! Another problem were the rims on the wheels; being a rather heavy model and rather light on the wheels, there was a risk that a kid would put a finger beneath a wheel while another one would try to push the locomotive through the class…..resulting in lots of noise, some real wounded people and a rather angry daughter so I have made a kind of a parking brake: only an adult can move that model now and the classroom and the kids are safe!!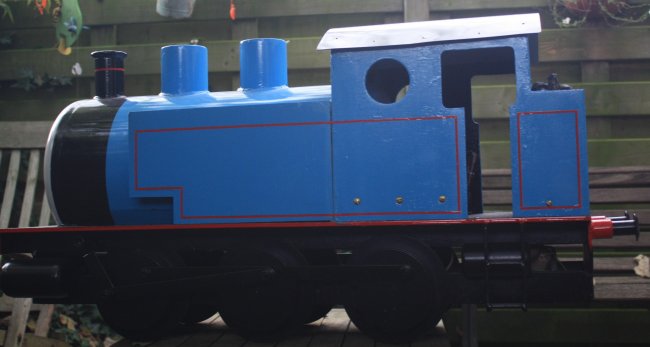 And as the cherry on a cake, I had to try to recreate the face on the front of the boiler. After practicing on some paper, a drawing on the boiler-front was made and with my airbrush I gave it a try….our daughter told us afterwards that her class went bananas when seeing the new item and her colleagues were rather jealous!

So, with a little effort, a scrap-candidate was saved and started a new life. It was a little bit bigger and a lot more heavier than the models I normally make but it was fun!

Hope you enjoyed the pics (sorry, but I had to blur the faces of the kids in order not to get any problems with the parents!) , best wishes for 2016,

Regards
Carl Gootzen