Alexander Lippisch and his team designed a lot of versions around the Me 163 Komet. The P.15 Diana was published in March 1945 and combined components of the Me 163 with parts of other planes. For example the front fuselage was taken from the He 162 and the landing gear from the Bf 109. It was planned to use the He S 011A turbojet engine.

Airmodel Products offers a very nice resin kit of this beautiful concept plane. The surface has very fine structures, also the landing gear is very lovely detailed. The bay doors are very thin. The kit is made out of a very little number of parts, so it takes only little time to build it. The "main body", including the middle fuselage with wings has integrated intake, there is no need to remove material here as it was in a former version of this kit. The parts all fit very fine, that's why I can recommend this kit to people who have no experience with resin models.

The cockpit is equipped with a seat, rudder pedals, stick and instrument panel. I added two side panels, because you can see the details inside very well through the deep drawn canopy. Before I glued the nozzle to the fuselage, I removed some material from the rear fuselage on the inside, because I feared that the CG is in a critical position and the model could drop on his tail. Later I realized that this was a good decision.
The antenna behind the canopy and the pitot tube I made by myself. The antenna is also in the kit, but it seems to me that making a new one is easier than deburring the original one. I added barrels for the guns in the nose (MK 108, 30 mm cannons). With a small driller I added the muzzles beside the intakes. Here it was planned to install MG151/20 on each side.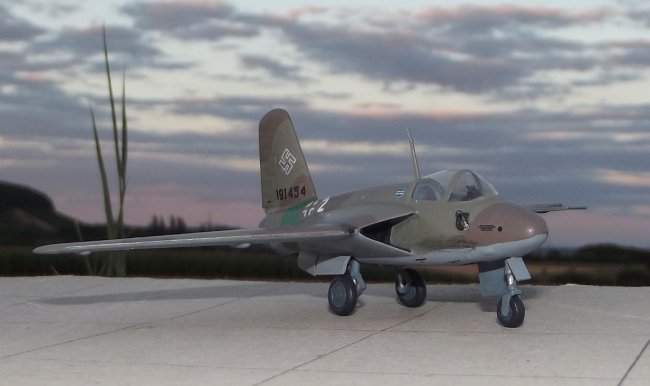 I gave a simple paint scheme to the model, because I wanted to keep the beautiful shape of the Diana. I used Email-colors from Revell. I attached decals from Peddinghaus, he offers a sheet with markings for six versions of the Me 163.
Further I added some markings I had left from other models. Finally I sprayed clear, silk varnish on the P.15.

In enjoyed very much making this little, fictional fighter. The model was made within only four days, thanks to the accurate and well designed kit.

Greetings from Germany
Thomas Brückelt