MiG-29 of Indian Airforce
For the Camo Scheme on the kit, big credit goes to Vinayak Dutt Shukla a very experience scratch builder from Indian Scale Modellers who had helped me with a reference photo and guided me on how to go about with it with his tips and tricks.
I had picked up this kit when Murli Rajan introduced me to this hobby way back in 2008-9. I had ordered this from Hobbyeasy.
The kit has good fit - nice recessed panel lines, overall good what you expect from a modern Italeri kit.
Masking on the kit in 72 scale was a very tedious and delicate job.

I first finished the red and white stripes, starting with white, then masking and red. After this 2-3 coats of Pledge mixed with water (50-50) and masking the whole section on before starting with the base grey camo. The Pitot had broken off as some non modeller handled the model badly during viewing it. So I had to scratch build it out of a 72 scale gun of an old cast off Spitfire.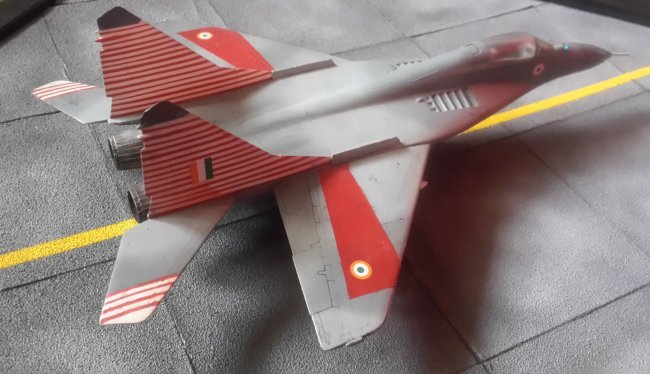 This post has been made on occasion of 69th Indian Independance Day on 15th August 2015.
Jai Hind
Paresh Nair Indian Scale Modellers