Westland Seaking Mk.42A - Indian Navy c.1987
The Indian Navy has been a prolific user of arguably the most versatile naval helicopter ever - the Seaking. The Navy started operating Seakings just before war broke out in late 1971. Over the years, it acquired several different types to fulfill a range of roles from ASW to Special Ops.

The model I built is of the rather unique Mk.42A variant that the IN acquired in the late 1970s to complement the ASW capabilities of the last two 'Leander'-class frigates then being built locally. These were analogs of Royal Navy's HAS.Mk.2s with six-bladed tail rotors unlike all the other variants we have had. The Seaking Alphas were specially equipped with RAST (Recovery Assist, Secure and Traverse) systems for easier shipboard handling.

The base kit for the build is Revell AG's superb Seaking Mk.41 in 1/72. This is by most accounts the best rendition of a British Seaking you can buy in this scale, though it took a bit of work to be made relevant as a 42A. The changes needed were - Back-dating the composite rotor blades to be the older metal type, sanding off chaff/flare dispensers in the rear without hurting the rivetted surface, sanding down fairings on the nose panel, re-arranging antennae placement and then scratch building some and plugging some windows to match pictures. The instructions are almost pointless beyond the first few steps. In addition to the changes required, I made some fairly drastic (for me!) modifications to stow away the rotor blades. The model has some additional surface details added in terms of cables and external wiring.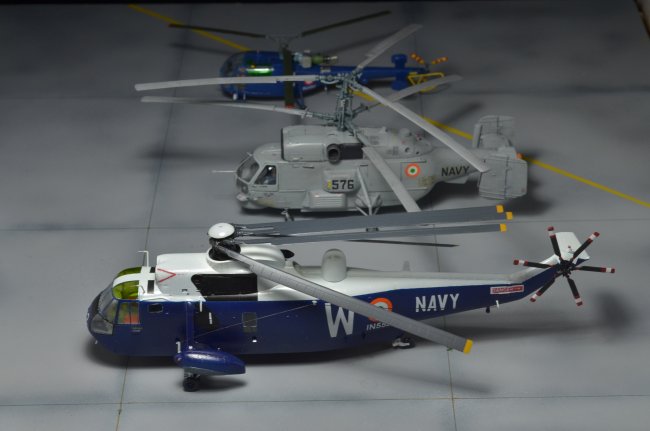 The model is finished in the dark sea blue and gloss white finish of the original Seakings. The biggest challenge was getting the (white) decals right, most of which are home-made.
Ratish Nair