F7F-7N Tigercat US Marine Corps Korea 1950
This project started as a paint technique experiment, as I wanted to try to replicate the worn night fighter schemes seen on these Korea War birds. The Tigercats were delivered to the Marine Corps in their original Dark Sea Blue, but were overpainted with flat black in the field for night operations. Eventually the harsh conditions these aircraft operated in wore away the black and blue paint layers to expose to aluminum underneath.

I started with, well, the only choice for a 48th scale Tigercat, the venerable AMT kit F7F-3N. This model is still very nice, with recessed panel lines and adequate details. However it has some flaws, particularly the incorrect props and basic cockpit details. I made the following mods to the kit:
Ultracast resin props

Eduard/Quickboot resin engines, gun barrels and resin landing gear doors

Squadron vac form canopies

Cutting Edge resin front cockpit

Scratchbuilt rear radar operators pit

Resin details from Aeromaster, including the wheels & flaps

Eduard HVAR rockets

Verlinden resin fuel tanks from their Mustang P-51 update kit

Resin center fuel tank

SAC metal landing gear

And finally, decals from the old Aeromaster set
By the way, there is simply no amount of weight you can add to get this thing to sit on its wheels. I musta put several ounces of BBs into the nose, and it's still a tail sitter. Oh well….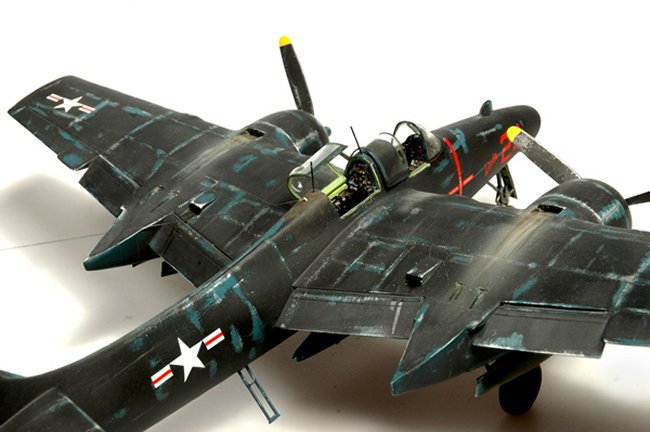 Now to paint…After assembly I coated the airframe with Tamiya lacquer aluminum straight from the spray can. I let this set for about a week to give the model a nice firm base. I then sprayed decanted hairspray through the airbrush and sealed the aluminum. I decant the hairspray because the spray head on the can is too course. After allowing this to dry to the touch, I sprayed Model Master acrylic Dark Sea Blue, lighted a bit, over the plane, in small sections. I use an old flat paintbrush, moistened with water or rubbing alcohol, to start to remove the blue paint along panel lines, leading edges of the wings and cowlings, and high wear areas. Work slowly. I would also use a bamboo skewer, bought in the grocery store, to remove the blue layer to finer areas. When I reached a level that looked good, I sprayed clear Tamiya lacquer over the blue layer and let it dry for a few days.
Next step…another layer of hairspray, dry to the touch. Over this is airbrushed a layer of Testors Aircraft Interior Black over the worn blue layer. I was pleasantly surprised to see that the aluminum was still slightly visible under the black, which made it easier to wear away the black layer and follow my original wear pattern. The black would wear faster than the under layer of Dark Sea Blue. This gave a very nice layered effect. I used a silver Berol Prismacolor pencil to add small scratches and wear marks. After decaling, I followed with a weathering pass, including exhaust stains, oil and fuel leaks.

All in all, a pretty decent representation of these hard working Korea War workhorses!
Vince Pedulla
Click on images below to see larger images