History and characteristics of this French Fighter are undoubtedly well known, so I'll mention here a few things relative to its career with Hellenic Air Force.

So, after a success story of worthy service offered by the Mirage F1-CG, the HAF (ΠΑ) ordered 40 Mirage 2000 EGM/BGM, having the first planes landed at Tanagra airfield, home of 114 FW near the city of Athens, on 27/8/1988. These newcomers incorporated to the brand new All Weather Squadron 331, named "ΘΗΣΕΑΣ" which means "Theseus", the ancient hero. This model represents one of these birds, as it was in service circa 2005.

In the following years Mirages became the spearhead of HAF airpower over the Aegean Sea, while they also used on Maritime Strike role carrying Exocet missiles. A significant number of these planes were upgraded to M-2000 EG-SG3/BG or "dash 5" level at 2005, leaving the rest still in service after almost 30 years, although in search of new roles in a constantly evolving theater.

Italeri's model is based on Esci's old Mirage 2000 Prototype edition and, despite its excellent engraved panel lines, suffered from inaccuracies and partial simplification. After-market sets were used here in order to correct mistakes and offer extra detail. So, EDUARD photo-etched set used at cockpit, engine, landing gear and bay covers and for replacing some other parts of the kit. Lines around the nose cone where filled and sanded and the nose pitot tube was replaced. The external fuel tank given with the kit were not used by ΠΑ, so modifications were done at the tail section of it. And don't forget the tail hook that is not provided!

Paints that were used here are Gunze Aqueous. Lighter shades of the basic colours were sprayed at panels on the fuselage and wings, in combination with oils, for weathering the model. The weapons are kind of typical, including Magic missiles, out of service today.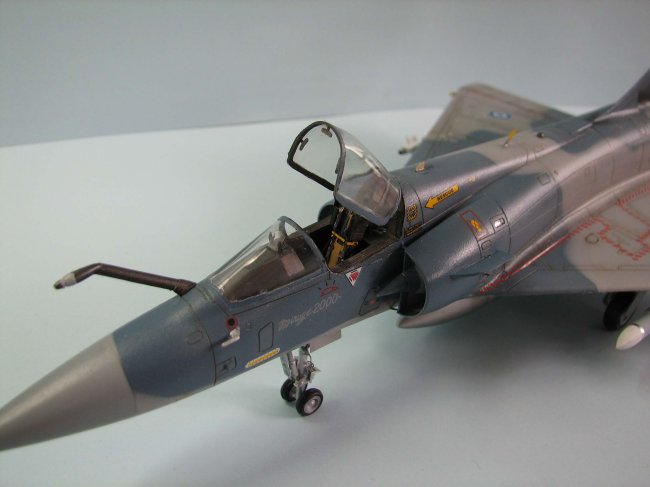 After all, this is a view to a war machine that is not only one of the most beautiful Aviation designs in terms of shape, but also has a strong relation to the Hellenic Air Force through the late years, being almost synonym to the air power itself!
Konstantinos Vergos