Hi guys, I am going to introduce you another (just) accomplished model. The real machine is far different from my best F-4 Phantom, still I really love this one too: the mighty mite, the small A4 from Douglas company. During my long but infrequent modelling activity, I built 6 of them, nevertheless a compelling instinct forced me to by a new box. It was so compelling I bought a B version reproduction, whilst one of the characteristics luring me, along with overall proportioned balance of shape and measures, is hunchback typical of successive versions.

No matter what, I got one Airfix box by my usual shop in Turin (my city) and went home to be confirmed in what I already knew: all my very attractive spare decal sheets were for F or M versions. Looking around in internet for smashing B version wearing was unsuccessful. Now, motivation is really important, so what to do? Finally my interior voice (soon or later I will realize who he/she/it is) suggested to use this model as a test subject for technics I was always afraid to use.

"At the end of the day" – he/she/it told me – "if something goes wrong, who cares? You do not really like this box, …". Well, any time it happens, I realize it is right, but any time I am surprised (this time too): working free of fair is far far more amusing and it is very likely you get fully satisfied with final result. I used both salt technic and post shading, after years spent dreaming of them.

Salt technic: a lightened 36440 was applied; once dry, soapy water (to reduce surface tension, preventing water slipping away) and grain salt spread over: water will seal salt grain keeping them on site. A layer of 36440 and, when dry, using a brush, removing salt. Wow! Unbelievable: clear spots resembling the weathering of real airplane surface are served. Now it was the time to apply via airbrush heavy thinned dark gray over panel (engraved) lines: post shading. To make this more comfortable, I did not fit together wings and fuselage before I applied the paints and effects. Another new (and successful) choice for me: fixing two pieces did not damage too much the painting effects: small actions and everything went fine. A final FS36440 strongly thinned (1 to 5) sprayed over finally joint structure, softened lines and hues. So, despite my bias for the version, I am happy with final result. To be sure, I put close to each other this B version with a previous M one, loading full ordnance (which makes a difference); maybe you will agree with me.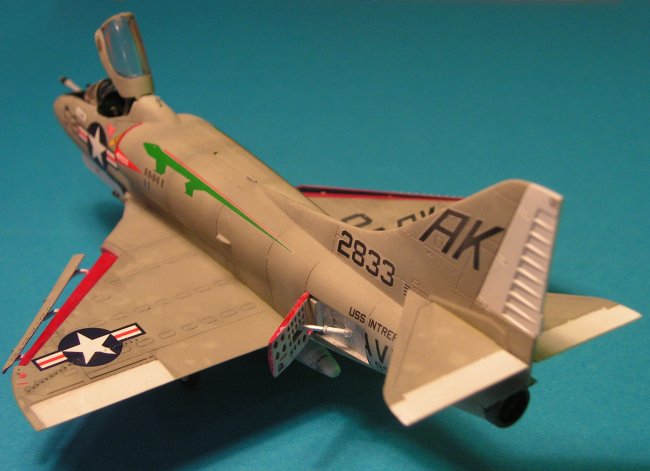 The Airfix mould is an old but still comfortable one to be worked; decals are very soft so they fit well also over rounded surface, but it is hard to cover the silvering effect. My technique should as well be improved, some more thinner would help to make more the shading and spots visible; a better selection of grain salts and more time to allow water to fix them would also improve the end result. Well, this means I will have more cue to have fun with next model.
Andrea Pomettini