Hello ARC! I present to you my Airfix 1/48 scale Hawker Fury, gifted to me by my in-laws and completed this past January. This was my first ever biplane, thus my first aircraft rigging.
Built out of the box, including Peter Pilot. I used EZ line for the rigging, and although I highly recommend EZ line, I did have a bit of a hard time installing it. I blame my fat clumsy fingers and lack of FAST DRYING CA GLUE, but I learned from my experience and I think the next time would be a bit easier.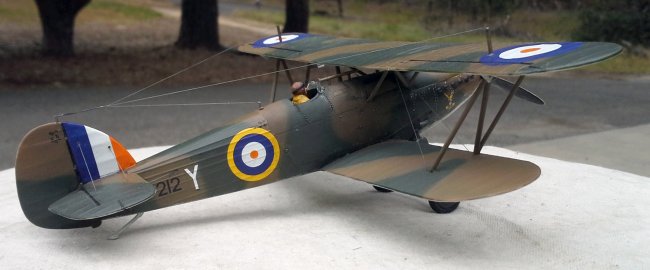 I finished it as a fighter of the South African Air Force, Ethiopia, 1941. I only gave it slight weathering and used oil paint for the first time as well, underneath the engine cowling around the nose. This was a simple kit but fun to build and gain experience points from. If you have never built a biplane before, this one is a great place to start!
Cheers!
Ramon R. Lomeli