Boeing F/A-18F USN 70th Anniversary
This model is a Hasegawa 1/72 F/A-18F from US NAVY VFA-103 JOLLY ROGERS in 2013 on USS Dwight D. Eisenhower. I decided to show this bird with an attractive paint scheme for the 70th unit anniversary. This special scheme represents the CAG bird 166620 Lot 27 delivered in August 2005. My kit number 02081 is a limited edition and it is from the box except some armaments. I used the decal sheet from the box too, decals are accurate and easy to fit. I followed Hasegawa instructions regarding colors, the upper dark grey Gunze acrylic FS36320 H307, lower light grey camouflage Gunze acrylic FS36375 H308 and Humbrol gloss black for tails, central tank, and canopy. I added a weathering to highlight engraved kit.
I added pre paint photoeched parts from Eduard kit SS229 to enhance cockpit, screens and ejection seats. I added from the kit two air air missiles AIM-9X and central tank plus FLIR pod. Other armaments come from Hasegawa aircraft weapons VII two AGM-15A JSOW, Hasegawa aircraft weapons IX two GBU-38 JDAM and Hasegawa aircraft weapons VI two GBU-12 Paveway II.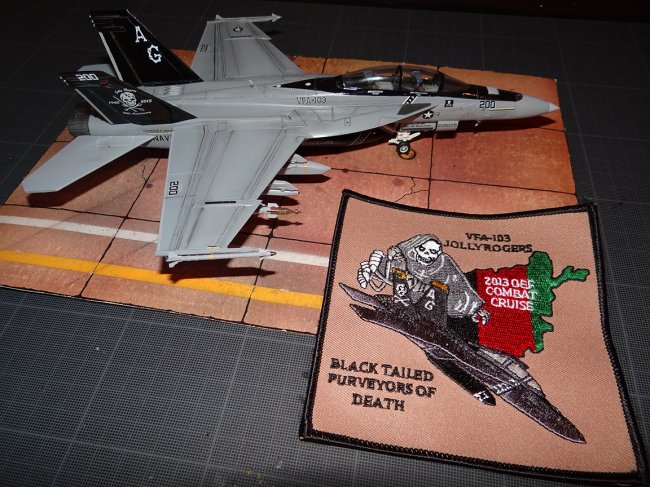 Jolly Rogers (VF-84, VF-103 and VFA-103 nowadays) for decades produced so attractive camos & painting on F-4, F-14A & B and F/A-18F, I think it is a real pleasure for modellers to render them. Perhaps too seen but never a wrong subject. It is also a tribute to this unit, pilots and staff and the job done during OEF 2013 cruise.
Take care of Black Tailed and White Bones!
Jean-Charles Goddet