I.A.I. Dagger: Malvinas / Falkland 1982

Hey Folks…
Here is my I.A.I. Dagger…

The history about this aircraft is well known.

In the beginning of the 70's Israel obtained the technical data required to set in production a simplified version of Mirage V. The Project was named Nesher, and it was the main fighter in Yom Kippur hostilities.

In 1978 the Argentinean Government set an agreement with I.A.I. to buy some of this up dated aircraft, concerned about a possible war against Chile. This updated Nesher, so called Dagger in the new version, begins this service in November of this year, and this Deltas (And Mirages IIIEA also) were the most important fighters in the FAA when the Malvinas/Falkland War begun, in April 1982.

FAA lost 11 on this aircraft, and 5 of their courageous pilots.

In May 24th of 1982, the C-430 was shot down by Sidewinder missile (AIM9-L) fired from a Sea Harrier. The Pilot, Capitan Raul Diaz, ejected safely, and he did survive the war.
The kit is the new High Planes 1/72. Is a very nice one, but is not perfect. The decal set is OK, but the assemble guide have some mistake, especially about the painting scheme.

I've include some aftermarket parts, like ejection seat (Martin Baker MK.6), exhaust pipe (High Planes, Highly Recommended), or pitot tube (Master Model) and access ladder (I can't recall).

The model was painted with acrylics K-4 in SEA scheme, whit some corrections on TAN.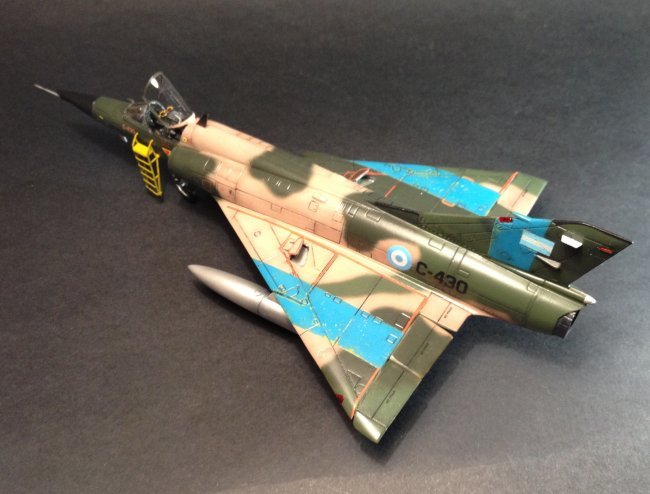 I hope you like this attempt….

Better Regards and Happy Modeling….
Alacran