This is my Su-34 Fullback "Red 05" in 1:72 scale. I finished it after 2.5 years. Basic model is Italeri, but everything has been changed, since this is 20 year old mold. Base paints are AKAN (83039,83038,83037) but lighten up with white (88000). Decals are Authentic Decals 72-58 (stenciling) + Begemot Su-27 & Su-24 stencils (for armament) and New VVS insignia (sets 72-047 & 72-048). Later I used dry pastels and wash. There are around 300 stencils on Su-34 only + 230 stencils on armament and launch units.
Main changes include from nose to tail: scratchbuilt nose probe and antennas, Pavla resin cockpit, thinned canards, IFR probe scratchbuilt, front and main wheelbay and wheelbay covers (Olimp resin), front leg and main legs were heavily modified, mud guard and ladders for front leg were scratchbuilt, ELF wheels, refueling panel (under the cockpit, Olimp resin), intake covers (scratchbuilt), dropped slats and flaperons, vertical tails (scratchbuilt completely), horizontals are from Trumpeter Su-30MKK, North Star nozzles, tail stinger was shorten etc...

Weapons:
H-59 + APK-9, S-13, R-73, Sorbtsya pods from ICM, H-29L from Italeri box, OFAB-100 bombs (Eduard Brassin).

Accessories:
Armory tow bar, wheel chocks from North Star (for An-24/26) and ladders from Dream Model. PAG-14 plates are from ICM, but I will make new airstrip from Modelsvit plates. I also want to add TZ-22 tanker and APA-5D ground starter later at some point.

Rescribed were:
fuselage upper part in front of engine

lower fuselage in front of intakes

wings on upper and lower side

tail stinger

canards
I counted over 400 parts installed on Su-34. With accessories it's around 450. Just front leg with mud guard and ladders has 63 parts, and each main leg has 25 parts.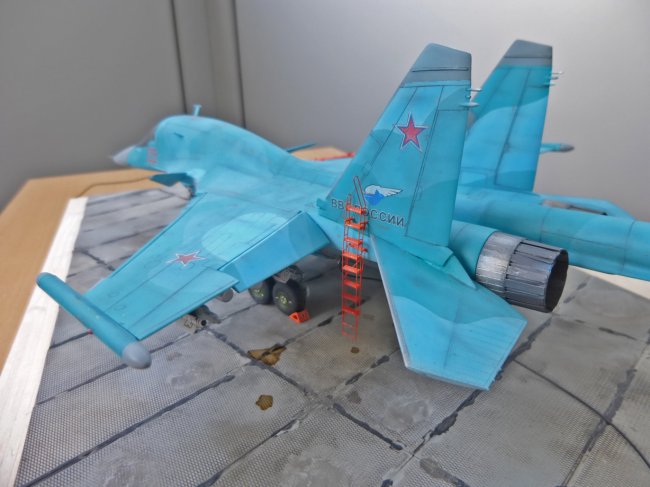 20 years ago Italeri gave us nice mold of Su-34, which was still a testbed at that time. Of course, at that time many things around this plane were still unknown or not yet defined. So, after 20 years parts from box are not good enough. I would recommend Olimp resin+PE set for starters. Eduard PE is mostly useless now. North Star nozzles are a must have, since they represent optimal combination of resin and PE parts, when compared to Dream Model and Aires/Pavla. Pavla cockpit is OK, but serial Su-34 have different instruments on central panel. To get accurate Su-34, you need rescribing – this is something you cannot avoid. Verticals from box are for first generation Su-35 (Su-27M) – which means scratch or take another pair from spare box. Horizontals are also wrong- reshaping needed. Canards from box are very thick. Stinger needs to be shorten for 5 mm.

Currently there are three active camouflages for serial Su-34: tri-color, eggplant and modified tri-color. This is original tri-color. You need to check your references which one is allowed for which fleet marking, but mostly you have no limits now. Limits on the other side are fleet markings available as decals (Olimp and Authentic Decals) – red 01...05 which is very sad. For weapons you need to heavily modify the Italeri box content or ... check aftermarket or your spares box...
Tomislav Kralj
Click on images below to see larger images