The model shown here is the 1/72 scale Gene Hooker vac-form model of the Vickers Vanguard (VC9). The kit is very basic, and has no added detail, such as scribed panel lines, wing flaps and doors, the model is also void of any undercarriage, wheels, propellers and cockpit, all this had to be scratch built.

I found the overall dimensions of the fuselage and wings to be accurate based on the 1/72 drawings I have, some areas of the kit especially the Rolls Royce Tyne engines were too basic for me, and therefore decided that these needed to be remade to give a better representation of the actual engines on the Vanguard.

I made a master of one of the engines and created a silicone mould which I was able to create four resin castings. The propellers were from a 1/72 Revell C160 Super Transall kit, cut to size and again resin casts were made. The wheels, front A/C scopes and engine air ducts were scratch built and resin copies made of these.

The model has a complete scratch built interior including passenger seats and cockpit, the steps were scratch built using plastic card and wire.
The most difficult part of the model was to create the large oval shaped windows that are so evident on the Vickers Vanguard, this was done by attaching silicone strips, which were cut from a silicone baking tray, on the outside of the fuselage which allowed me to pour clear polyurethane resin on the inside which enabled me to create the contours of the fuselage, oval shapes were then cut out using Tamiya tape and positioned on the clear resin ready for priming and painting.

Once everything was completed, the model was primed using Tamiya grey fine primer, micro meshed down, checked to see any imperfections, the model was finished using Tamiya white fine primer micro meshed down, then airbrushed over with Tamiya gloss white for the top half of the fuselage, the wings were sprayed Tamiya gloss red, engines and leading edge of the wings painted flat aluminium, Model Air USAF light grey was used for the underside of the fuselage and propellers, the model was then finished with a coat of Alclad gloss clear coat, lastly all small details such as aerials was added.

The BEA logo and serial markings were drawn using Adobe illustrator 10, a DXF file was created which enabled me to send the file to the Silhouette Cameo cutter, the masks were then cut out from the Tamiya A5 masking sheet and applied to the model for spraying.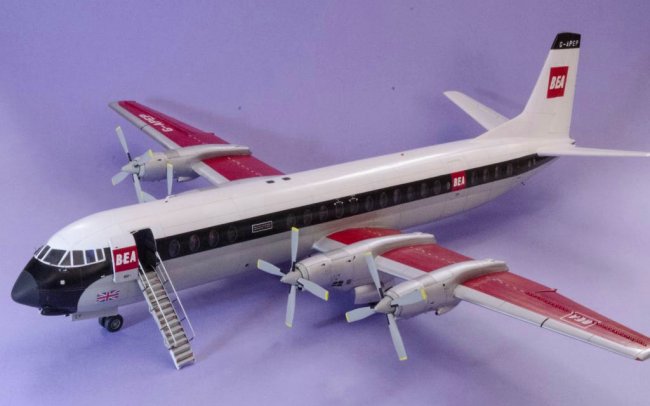 This particular Vickers Vanguard G-APEP (Superb), is now preserved at Brooklands Museum, and is the only complete surviving airframe in the world, although it had been converted to carry freight and was renamed Vickers Merchantmen and was last operated by Hunting Cargo Airlines in 1996.
Kevin Payne
Click on images below to see larger images