Hello, fellow modelers.

The Hawker Siddeley Dominie T.1 was a specialized navigation trainer that was built in short numbers in the 60ís for the Royal Air Force of the UK. It was a development of the Hawker Siddeley HS. 125 civilian aircraft. My Airfix Dominie is the fourth very old model kit that Iíve finished in a row. I bought this one more than 35 years ago, and it showed the characteristic raised panel lines of Airfix jet aircraft kits tooled in the 60ís. Another characteristic of this kit was the movable control surfaces. The model has been reissued by Airfix several times, the last time with a different paint scheme.

My model was left unfinished for many years, because I never was satisfied with the fit and the seams and steps that were left after assembly. Well, I decided to finish the model by 2014, and the finishing process took more effort than I originally planned.

I researched on the Internet photographs of the aircraft in its early white-red-light grey livery. Fortunately, I found photos of XS713 and XS714, two of the three aircraft that could be built using the kitís decals. These photographs would also help as a guide for painting and for decal placement, as the kitís instructions had mistakes and omissions. After the basic colors (white, light grey, red and aluminum) were painted (a difficult process with a lot of masking involved), I decided to build my kit as XS714. This version had an eye catching medium blue area on the fin, surrounded by black strips. Fortunately, the blue area was not so difficult to mask and paint, and the strips could be done with decals strips left from other kits.

When the basic colors were all painted, the model received two coats of MM Acryl Gloss Varnish, except over the aluminum paint, which remain masked, and the model was ready for the decaling process.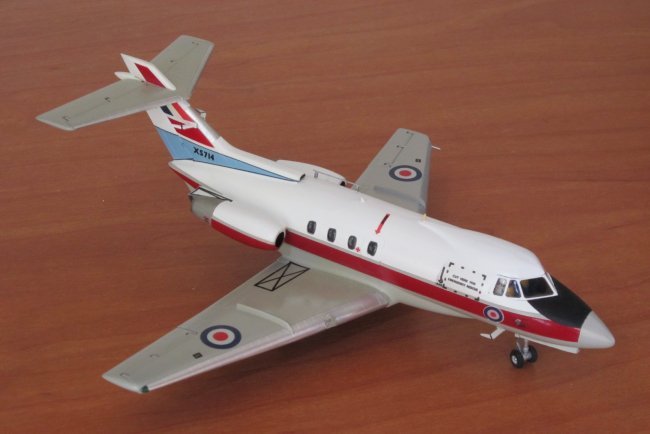 Contrary to my expectations, the kitís old decals behave very well under Micro Sol and Solvaset decal solvents, leaving only a very small amount of silvering, which was painted over with a fine brush. The only problematic decal was the one provided for the antiglare panel: it was bigger than the actual anti-glare panel area. Therefore, I decided to mask and paint the antiglare panel, a decision that in the end made the model a little more realistic. I also added thin guitar string wire to complete the antenna next to the port side of the fin.

Well, Iím very satisfied with the model, considering the kitís age and imperfections. It was finished just in time for Christmas. I hope that youíll like my model too.

Greetings from Caracas, Venezuela.
Orlando Sucre Rosales