1/72 Italeri Hawk 208 with NMA conversion
In the early 1990s, TUDM purchased a mixture 10 Hawk 108 and 18 Hawk 208 jets from Bae.

The Hawk 208 is a single-seat, lightweight multirole combat fighter with emphasis on air defence, air superiority, anti-shipping, air-denial, long-range interdiction, short-range close air support and ground attack, with its 7 hard point, Hawk 208 are capable of carrying various iron bombs, cluster bombs, rocket and cannon pods for Strike and COIN role and additional 30mm Aden cannon pod or LGB can be carry on the center line pylon.

Hawk 208 also involved in Ops Daulat, striking Sulu intruders with Mk 82 bombs and rockets.
This is a simple conversion project by replacing the Italeri Hawk 100 kit with single seat resin conversion from NMA models.

Fit is generally good, and clear parts and intake taken from old Matchbox Hawk 200 kit.

It was painted over all with Gunze H335 MSG, and decals taken from various sources including roundels from F-4dable decal and Sqn marking from VFA decal.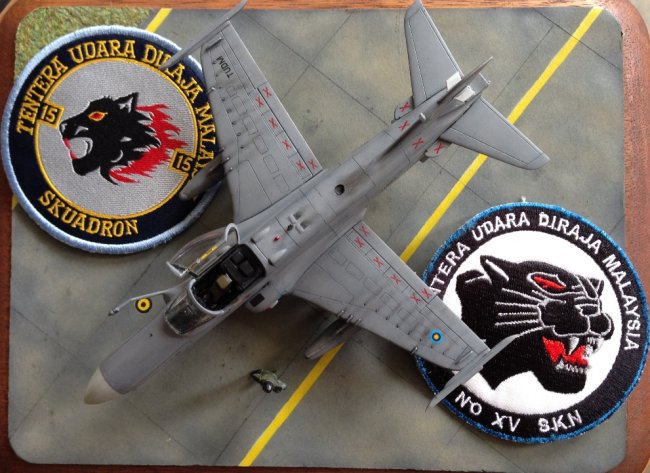 Happy MERDEKA!
Thomas Ng