1/48 Eduard MiG-21 MF
Gallery Article by Lucian Capraru

on Aug 21 2014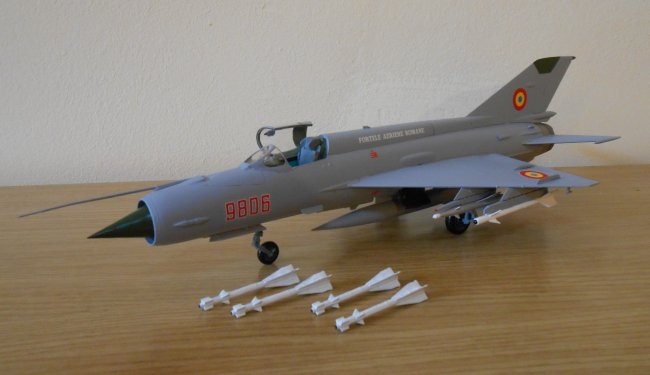 Hello,
Back again with my favourite jet, the MiG-21 MF from Eduard (Weekend Edition).

This time we are in the 90's period and the location is 86th Air Flotilla Fetesti, near the Danube. The "9806" entered in the Romanian Air Force service on 28.09 1974 and it still flies after 4 decades but as a Lancer A, air to ground strike variant.

The 86th Air Flotilla is one of the most inhospitable air bases in the Romanian Air Force especially in winter time, not once the pilots and the ground teams were isolated here during the heavy snow falls and the only way to exit the base or to receive supplies was by helicopter.
Regarding the build, I think that the Eduard's kit is one of the most accurate MiG-21 MF I've ever seen, first of all you have the RS-2US air to air missile which you can see on my "9806", other kits have only the R-3S, also this looks really like a MiG-21 MF, other kits represent the BIS variant, you can see the difference behind the cockpit, the BIS variant has a larger spine than the MF. Regarding the decals, the Romanian markings are from Parc Models, the kit comes with the Slovak Air Force and the "Fortele Aeriene Romane" decal from the spine was not used during that period with the MFs until the Lancer variant…anyway I found it very nice so I applied it.

The weapons configuration for QRA, 2 RS-2US and 2 R-3S + one 490 l external fuel tank was the standard for that time, there are many photos on the Internet with MFs loaded with these missiles.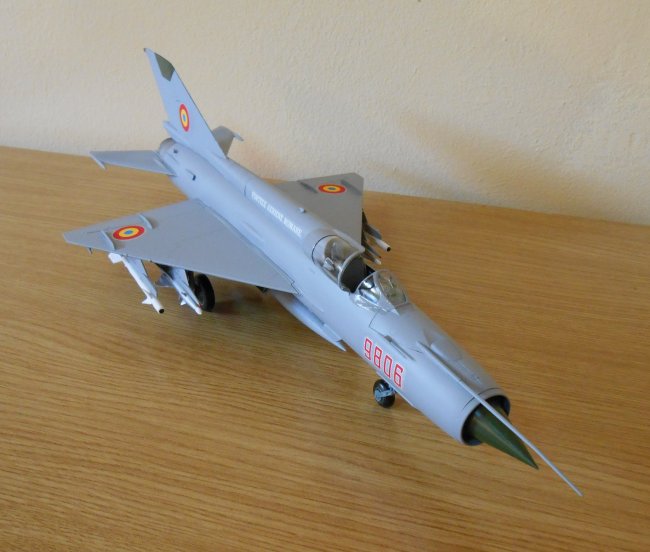 I hope you like my kit, the MiG-21 is the backbone of the Romanian Air Force for more than 40 years, I think we should post the MiG-21 holiday on the calendar, it is and it probably will remain the longest jet fighter in the Romanian Aviation History.
Louis