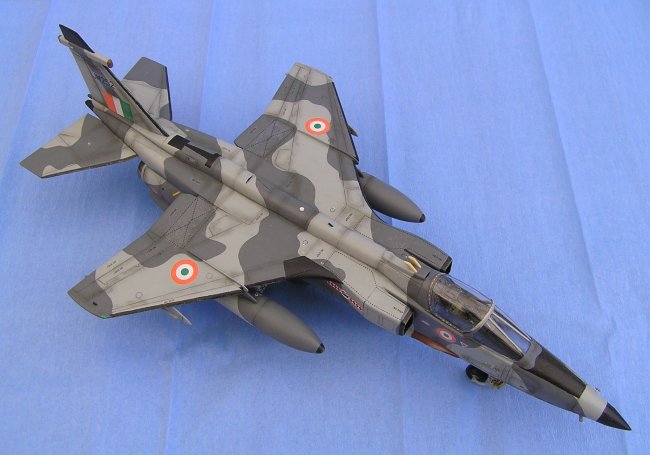 This is a slightly unusual Jaguar: the anti-shipping version, known as the Jaguar IM. A handful were built by HAL for the Indian Air Force alongside the much larger production run of bombers and trainers. Nowadays, they're boring grey like everything else and they use the Harpoon missile. But when first introduced they had this attractive colour scheme of Dark Sea Grey and Barley Grey, and carried the Sea Eagle. The main external difference is the radar (originally Agave, now an Elta unit) instead of any laser equipment.

The kit is Hellerís old one from the early 1990s, in the Airfix box. This is not a brilliant bit of work. Itís been described aptly as ďa filler spongeĒ, and details are sometimes right for the French version, but wrong for the UK version on which all export Jaguars were based. So, for example, you get a correct fairing for the Aden guns, but none of the associated bits at the breech end. Also, the cockpit glazing is dreadful. But where this kit does score over the new one from Kitty Hawk is that the wing is the right shape.
Iíd wanted a Jaguar IM for a long time but it wasnít possible until I stumbled upon a radar nose from an outfit called The Model Works. That was lucky, as Iíd been thinking of spending a fortune on a Super Etendard to rob the radome off it, which would have been entirely the wrong shape. Also included were better pitot heads and a pylon for the missile. Other additions are Two Mikes intakes, Model Alliance decals, and the excellent NeOmega cockpit. This is for a Jaguar GR.Mk.3 but as I couldnít find references for the IM cockpit, I reckon no-one else can either, so no-one will know itís wrong if you donít tell anyone. On top of that, Iíve added more air data sensors round the nose, and breech bulges and vents for the guns; replaced the overwing pylons with fences; and added a bit of detail to the engine exhausts because Paragon replacements were too scarce and expensive. Various lights are little-lenses, which are lovely little things. I didnít bother with brake lines and such because the undercarriage is a bit of a let-down and, withal, has gone all wibbly-wobbly on me.

Paint is from all over the place, including some Rub & Buff under the tail. All done with a brush. Weathering is my trusty old chalk pastels.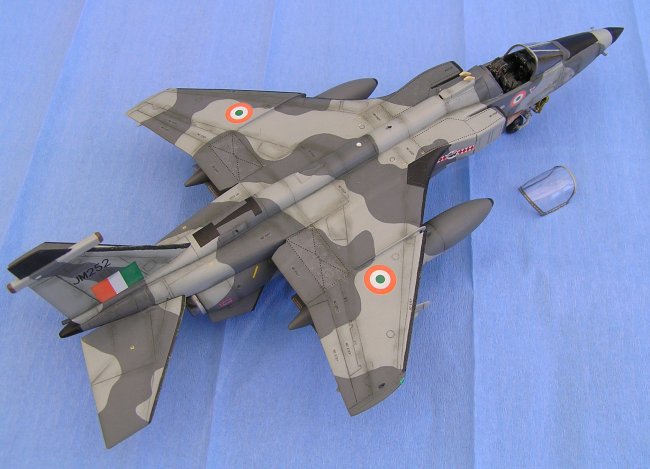 Iíve had a bit of a go at the kit, but actually itís not that bad. With Kitty Hawkís out now, the price of Airfix/Heller Jaguars ought to soften, so itís worth looking out for one.
Sean Langley