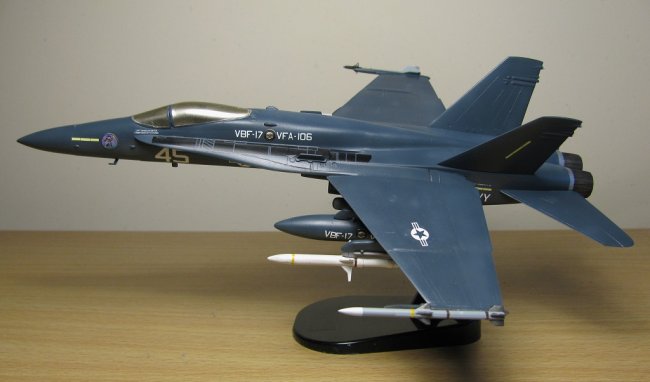 F/A-18C CONA VFA-106 Gladiators
If you're interested in reading through my build thread for this project, please refer to the following thread on ARCforums: http://www.arcforums.com/forums/air/index.php?showtopic=270428

When I first opened up this kit, I got a rather nasty surprise to learn that it's actually reboxing of the woeful Italeri rendition of legacy Hornet (which I had the displeasure of building when I first got back into this hobby in 2008/2009). Almost everything about this kit was very bad.

But, as far as I'm concerned, the things that (for some strange reasons) bothered me the most were:
Non-existent gun port on the nose

Fin antennas molded in rather than separate parts

Non-existent jet exhaust turbine
At first, I wasn't sure if I was going to bother finishing this project, and I came really close to abandoning it. But then I decided to look at it as a challenge for myself to make this piece of junk somewhat presentable. Was I successful? Well, I think so. At least from my own selfish point of view.

Initially, I was thinking of building this kit only with gas bags, but as usual, I changed my mind. Since I have quite a bit of spare missiles in the stash, I decided to load it up with an AGM-84 Harpoon, AGM-88 HARM, AIM-9 and AIM-120C. The Harpoon and HARM came from my old Italeri Hornet (which, as I said, was the original boxing of this kit anyway), which I resanded and repainted. The AIM-9 was originally from.... Hasegawa I think (can't remember which kit/boxing). The AIM-120C was from Raptor kit, but I can't remember which one, Revell's or Italeri's.

Here is the list of paint that I used for this project:
Overall coat: Gunze Aqueous H54 Navy Blue

Post shading: Gunze Aqueous H54 Navy Blue mixed with a few drops of Gunze Aqueous H311 (FS36622)

Base of burner cans: Mr Metal Color Aluminum, brush painted then polished using cotton bud

Burner cans: Mr Metal Color Dark Iron, then dry-brushed with Mr Metal Color Stainless followed by Mr Metal Color Bronze for highlights

AGM-84 Harpoon: Gunze Aqueous H311 base then Tamiya X-1 (Gloss White)

AGM-88 HARM: Gunze Aqueous H311 base then Tamiya X-1 (Gloss White)

Finishing coat: LifeColor Satin Clear
The only "weathering" I did on this project was the post-shading. I didn't use any oil wash at all (except for the HARM and Harpoon).
BTW, the stand is Italeri's discontinued Stand Base for 1/72 scale planes and helicopters.
Hope you like it!
Michael "Chewie" Choo