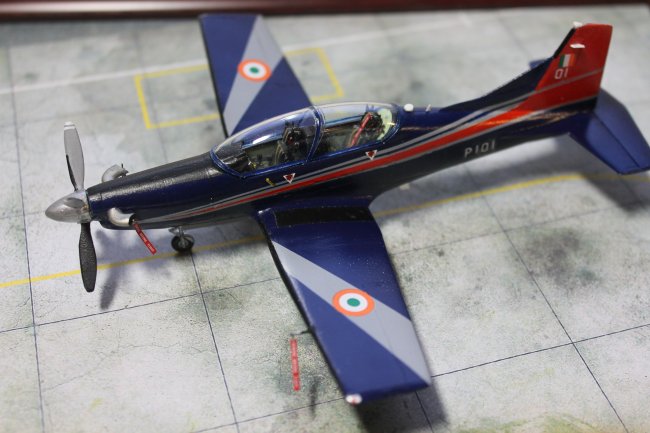 1/72 Indian Air force Pilatus PC 7 Mk II converted from Blitz Models PC-21
I have hunted for long to get my hands on a 1/72 PC 7 Mk II, the IAF's latest basic trainer, but it doesn't exist. The PC 7and PC 9 do, but not the PC 7Mk II which essentially is a down engined simplified, not-weapon capable PC-9, with the PC-9 canopy on a PC 7 airframe, more or less!!
So I chanced upon this fantatstically rendered model of the PC 21 which basically had the correct canopy and nothing else except the fuselage. Rather than mould a new canopy I opted to operate on the plastic! That really meant using the carcass of the empennage attaching new rudder, elevator and ventral keel. The wing outer panels were replaced and correct dihedral added including extending the chord of the retained wing root section. Spares were used for the main undercarriage (MiG 29 nose wheels) and a new spinner and prop created from spares (P-47 blades modified) new GPS and ILS antenae were also added. The paint job was the main excitement!! lots of masking, re painting and brush touchups. A clear coat darkened the whole paint job a bit, but in most lighting it looks OK??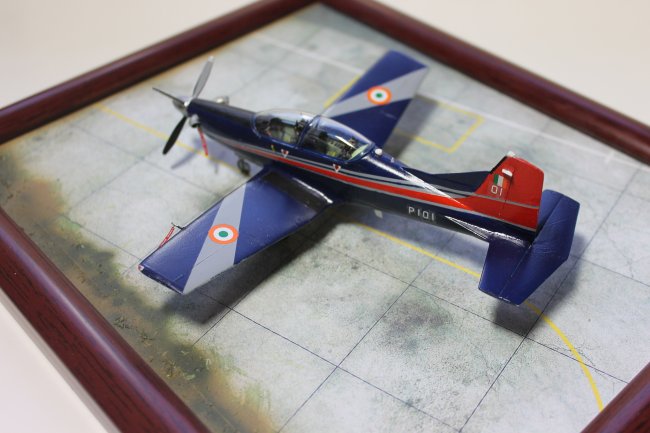 So here she is with a home made base and Eduard RBFTs
Polly Singh