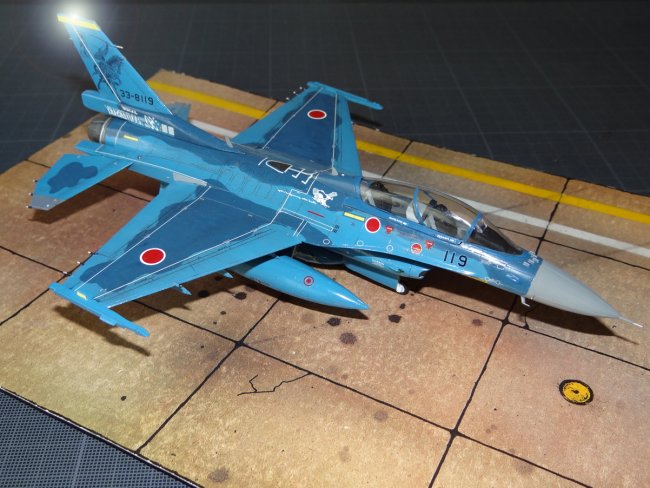 Mitsubishi F-2B J.A.S.D.F 50th Anniversary
This model is a Hasegawa 1/72 F-2B Japanese indigenous fighter. I decided to show this bird with an attractive paint scheme with horse mounted samouraļ. This special scheme represents the flag ship plane 33-8119 for the 21st Fighter training squadron (Hitokaļ) 4th Air Wing (Kokudan) from Matsushima AB. This paint scheme was for the 50th anniversary of Japan Self Defense Force in 2007. Matsushima AB was flooded by seawater after 2011 earthquake and tsunami. 18 F-2B were damaged or destroyed (12 were scraped). Remaining 6 planes restoration is still underway with the help of Lockheed Martin with first aft and leading edges delivered in December 2013 to Mitsubishi Heavy Industries. I used the decal sheet from the box with no add ons, decals are very accurate. I followed Hasegawa instructions regarding colors, the upper blue splash Gunze acrylic H54 on overall blue camouflage Gunze acrylic H56. I mixed these two colors with other blue and white to try to find the most accurate camo. I added a light weathering because Japanese planes are always clean.
To enhance the model I added a central tank and one tank under each wing. I decided not to add armament or missiles because as training jet F-2B are often shown without weapons. I dedicate this article to all Japanese hardly touched in their chair and heart by this terrible natural disaster plus the Fukishima consequence.
I hope you like my model and pictures. It was a real pleasure for me to assemble this super Japanese "F-16" (25% larger wing area than the real F-16), 94 F-2 were produced with approximatly 30 F-2B two seats version, despite F-35 selection by Japan to replace F-4, F-2A/B and F-15J/DJ could be replace by a new 5th generation fighter Mitsubishi ATD-X perhaps next futur F-3. F-2 will be upgraded with new extended AESA radar and electronic suite and long range air air missile Mitsubishi AAM-4 with AIM-120 AMRAAM characteristics.

Don't forget the way of the Bushido
Jean-Charles Goddet