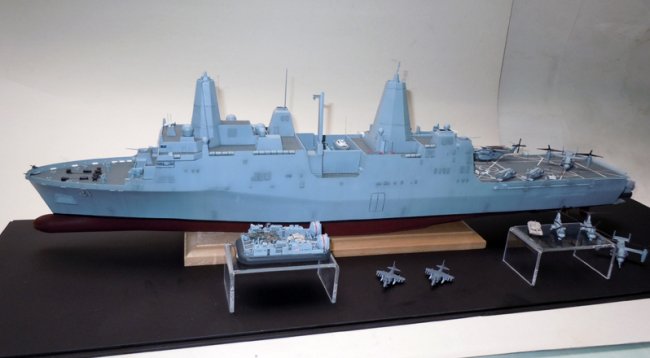 This is Bronco's LPD - 21, the model is easy to made but without most of the detailed on the superstructure, all of the door, hatch and hose wheel are missed. The air wings, Helicopters and Hummer are very nice detailed, before you assemble them....have your bed ready, because the parts are small and you will have to take break due to eye strain!
The main problem for this ship is assemble the upper superstructures to the hull. I don't know why the upper parts are larger than the lower parts and after assembly you have a "step" that I used epoxy putty to fill and re do the shape again. Front window bridge had to do something when put the clear parts (window) it was blocked by the superstructures, had to cut out the cockpit plastic parts to let the front window see through, also can put lighting there!, I had put 5 LEDS to light the model, too.
The models was used the box provided photetch, only I used aftermarket water weight door..
Paolo Yuen