The DeHavilland Vampire was the first jet to enter service in a South Asian air force, with the Mk3 fighter being evaluated by India in 1948. The Indian Air Force (IAF) operated three major subtypes of Vampire until the last FB.52 was delivered to the Historic Flight in 1969. The Indian Air Force adopted the FB.52 fighter, the T.55 trainer and the NF.54 night fighter. Some trainers were adapted for photo reconnaissance and redesignated PR.55. The T.55 trainer was purchased new from Great Britain beginning in 1953 with attrition replacements being imported from Britain, Indonesia and New Zealand starting in 1963.

This article is a collaborative effort by the modelers and friends in the Facebook group "Indian Scale Modelers", many of whom leapt right on this kit when it was released in late 2013. As so many of us wanted to submit the same model today, we decided to combine our offerings into one submission. It is instructive to see the side by side comparison of our interpretations of the natural metal finishes on the same canvas. Here are the five who made the deadline:

Photo Row 1: Vampire BY-701 was modeled by Murli Rajan. Murli's model represents one from the batch purchased from Indonesia in 1963. Seat belts were added and the ejection loops replaced. He is a faithful adherent to the Alclad painting system for metal finishes.
We are portraying the T.55 trainer in IAF service using the excellent new 1:72 T.11 kit from Airfix, Kit #AX02058. This is the first mainstream kit of this subtype and it is produced by Airfix under that company's new business model of offering affordable, inexpensive kits that lack little or nothing in detail. It has proven to be very popular with modelers in the nations that used the type, this release sold out several times over at the major dealers. The only quibble with this kit is a matter of taste with some modelers feeling that Airfix is still engraving the panel lines too wide and deep—an easy fix if you must. Otherwise, this kit falls together without fit issues. The only possible pitfall was engineered out by Airfix who ensured that it can be assembled only one way—correctly. The twin boom tail can be a major headache to align on other kits but not so with the positive locking features Airfix employed. However, be warned—this beast requires nose weight! While Eduard, Maestro and CMK have released photo etch and resin accessories, these are 'nice to have' and are not necessary. The only thing missing is seat belts, which most of us can make ourselves, or one can simply crew the jet with the figures supplied. All of our models are built out of the box except for details as noted below. We all used the excellent Indian roundels and fin flashes offered by Mick Burton (an ISM member) through his Bright Spark decal line. The stencils came from the kit's extensive and complete decal sheet. No one reported any issues with their builds or the kit stencil decals.

The large photo below is of Kevin Ingraham's T.11 alongside the CyberHobby FB.5 for comparison--the FB.5 kit is almost four times the price without the clever engineering done by Airfix. As they say "watch this space."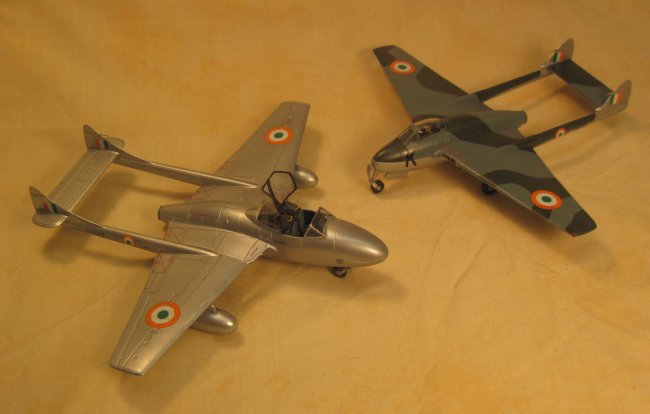 Photo Row 2: Aditya Singh Chauhan's model is the result of a relaxing weekend project! He applied a fine wash over a silver enamel finish. His model has the full stenciling indicative of a British-built Vampire. Don't you envy guys like Adi who can do such excellent work in such a short time?

Photo Row 3: This Hindustan Aviation Ltd built T.11 is from Kevin R. Ingraham's workshop. Kevin replaced the kit seats with resin MB Mk.3B seats from Pavla (#72079). While the kit seats don't need replacing, this set is very nice. Photo 3 in this row shows the kit's instrument panel decal so you may decide if the Eduard or Maestro's color PE rendition is worth the investment. Note also that the tiny Airfix stencils are legible! The IAF almost always uses 'buzz numbers', following British practice. Some aftermarket decal producers miss this detail.

Photo Row 4, Pics 1&2: Omkar Babat hand painted his model using locally available acrylics, proving that you don't need expensive tools to achieve excellent results—good models are the result of careful attention to the basics. He offered the 'work in progress' shot so you can see what the kit looks like 'undressed.'

Photo Row 4, Pics 3&4: Sunil Prasanna built two T.11s and portrayed one in a rarely photographed camouflage scheme. Modeling with the wheels raised did not present any difficulties. Sunil's research effort was closely followed on our forum and ended up adding a lot to our collective knowledge about the two seat Vampires in IAF service.

Anyone interested in modeling the history of South Asia and India in particular should look into the Facebook group 'Indian Scale Modelers', the friendliest and most cooperative modeling club on the Web. Nemaste!

References: www.bharat-rakshak.com
Respectfully Submitted by Aditya Singh Chauhan, Kevin R. Ingraham, Murli Rajan, Omkar Babat and Sunil Prasanna.
Indian Scale Modelers Facebook group