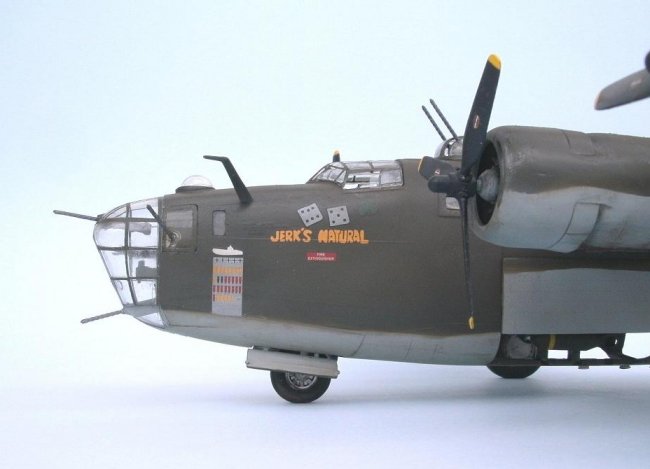 Brief history:
The B-24 Liberator bomber was one of the most prominent airplanes of the World War II. It joined the B-17 in massive bombings raids of Germany. Known by the manufacturer as Consolidated 32, it carried more bombs and had more range than the B-17, however it had the disadvantage of having had a harder riding. Among the crew were complaining that it was also much more vulnerable than other bombers before the strafing of enemy fighters. By so much that earned the nickname among the Germans the "flying coffin " and more part up among Americans! It had several differences from the B-17, as in tricycle landing gear, twin rudder, high wing and is having major and minor chord. This wing design became known as " Davis wing " which was also applied to the P-38. The main qualities of the Liberators were in great autonomy and great load of bombs. Carrying 2.200 kg bombs in scope and in more than 1,700 km. It's crew was 10 to 12 men, where the B-24D defensive armament of 10 guns, divided into two in the nose and the rest in the bomber turrets. Already in the J version onwards, had already won a turret in the nose. Had cruising speed of 346 km/h. The most famous of the B-24 mission was the bombing of the Ploesti oil refinery in Romania on 08/01/1943. The USAAF B-24 missions that were conducted over the B-24D had the pseudonym The blue streak that made a total of 110 missions, and also participated in the first bombing mission in Plosti which was 06/11/42. And the B-24H-15-FO Witchcraft that held a total of 130 missions.
Mounting:
This model offers the greatest difficulties, with this easy to assemble 1/48 scale. Compared to the B-17 of the same scale, is more detailed, coming with a full bomb bay. However you need to add weight in the nose to keep the nose on the ground.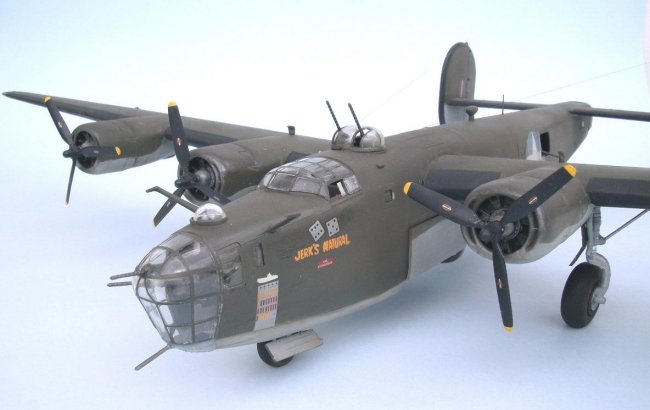 Painting:
This model came in two paint schemes of the USAAF, which I chose to do the "Jerk 's Natural" which was one of the Liberators used in the bombing of Ploesti. It's painted was with ventral parts in Grey Neutral and back with Olive Drab and spots in Medium Green on lips inducing.
Mateus Manso
Click on images below to see larger images