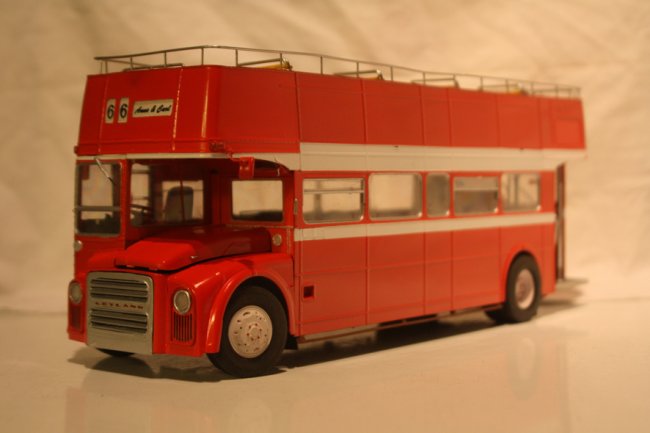 Maybe you remember my friend, the one who collects old cars and buses; if you have something to celebrate or you're getting married and need some transport: he 's the one where you can rent a bus for your party! Well, several months ago, he came telling me that he had bought a beauty in the UK: a London bus but without a roof on it, an open topper! Of course his request was the next thing: try to duplicate the 1/1 in a 1/24 model! But he had something special in mind: he would like to create a kind of a lounge in the lower cabin where the older people could sit and talk while the younger ones would occupy the open upper floor! And this time, he allowed me to design the lounge, so he could make a copy of it in the real bus! Yes!!
Another change he wanted to make, was changing the setting of the seats on the upper floor and refurbish everything: covering the floor with a water resistant sealing, put a wooden deck on it, re-arrange the seats by placing them face-to-face and remove the original seats and replace them with a wooden lathing like one can find on garden benches! Quite a challenge to duplicate that on 1/24! The wooden deck is made by real wood: 5 x 1 mm, the skeleton of the seats was cleaned and the wooden seating duplicated by Evergreen strips……
Because the real example had a quite impressive radiator front, I had to modify the nose of the model and try to recreate the grille…it took me quite some time!

Despite all the "problems" it was rather fun trying to find solutions for the problems when they occur and despite the fact that the model is not an exact copy of the real London "Open topper" bus, the model resemble (slightly) to the 1/1 example! (I hope!!)

I can't include pictures of the (finished) real bus because that one is nearing completion but is not ready! (I think the real bus will be operational this summer!)

Enjoy the photos and happy modelling.
Carl Gootzen