Many people believe that the F-22 and F-35 will be the last manned fighters. I don't think so, but I do think that all the budget cuts will take their toll. This may be the future. It is easy to maintain. Spare parts are readily available at most junkyards. There are a wide variety of weapons packages (pistols, shotguns, deer rifles, bow's, etc.). Shown here is an optional RN missile made from beer cans, duct tape, and the boxes from empty beer cases, laundry detergent, and Mac N Cheese. The explosive capability is variable; just add as many M80 firecrackers as needed. This could start showing up at your local airshows by the end of the year but it may take 30 to 35 years and millions of dollars before it can become combat qualified.
This started out as the MPC, 1:25 scale Sheriff Roso's police car from the Dukes of Hazzard television show. It was modified by using things from my spare parts bin, various left over aircraft decals, and painted with Tamiya acrylics.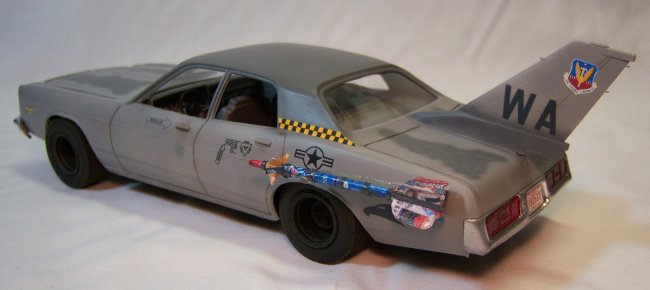 It is great that we have Silly Week to let our imaginations off the chain for a week.
Hal Elsberry "Els"