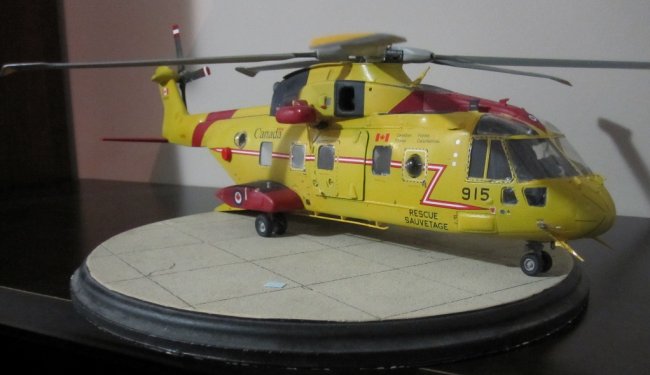 This is my first submission hope you enjoy. First of all I would like to thank Mike Belcher for letting me be his guinea pig for this conversion.

Every since I found out Airfix was releasing a Merlin Mk3 in 1/48 I planned on trying to convert it into a Cormorant. When it finally was released I ordered two from the UK, and was pleasantly surprise that Mike was planning on a conversion so I promptly contacted him to discuss the project. I was able to provide Mike some insight on what was required to convert the kit to a Cormorant. Shortly after, I received a box in the mail containing the first part of the conversion set.

And so the cutting and filling began, I will apologize in advance, I built this kit faster than I normally do so please do not take my quality of finishing detract from the quality of the parts supplied by Mike.

As I couldn't wait to get the kit together I close to finish and close the kit up rather than wait for all the interior details. I did do some mock ups and figured I could "add" the interior via the rear ramp or cargo door. As the fit of kit is tight in a few areas some additional trimming was required to accommodate the fuel fillers on the port side. Also had to cut off and fill in all the EW gear as the Cormorant is not fitted with any.

A second package arrived in the mail.

I painted the kit using Red Gunze H3 and Tamyia black, painted the yellow using the Humbrol "Rescue Yellow" but found it too not be quite the right colour but I was committed. I have used Gunze 329 in past but it is hard to find now. I also found out later that Model Master Acrylic Chrome Yellow would maybe have been a better option.

I used a combination of the kit decals and decals from Mike

Added some additional parts Night Sun, "towel bar", third pitot tube and some other unique Cormorant details.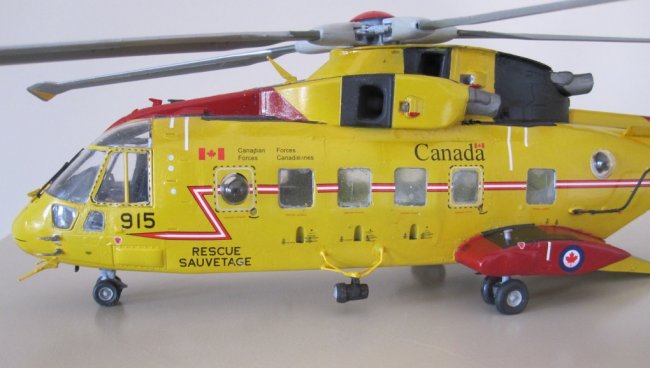 I am pretty happy with the finished kit, but next time I will spend some more time on the details and adding a detailed interior. Also after pulling of the masks I found some overspray on the windows, have just left it for now.

Some of the other pictures show a side by side with a 1/72 Cormorant, a 1/48 Labrador conversion again using Belcher Bits conversion and decals and with a selection of SAR aircraft I have been lucky to fly with Lab, Cormorant and Sea King all 1/48.

I would again like to thank Mike Belcher for supplying the conversion parts and decals. The final conversion will probably include some extra parts and decals.
Gordon I
Click on images below to see larger images