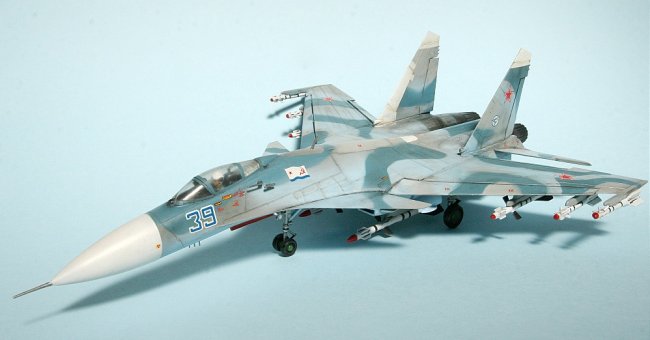 Greetings,
This model is a Zvezda 1/72 Sukhoi Su-33 Flanker-D box 7207. The instructions were not very good. Some places had been forgotten and it was not photo detail for junction. No details on the exhaust kit and missiles, for the missile was not decal. Lines on the kit was featured that better off was fossa. It was very opaque canopy.

I made it in September 2013. This model is with Russian Navy Camouflage. I made this model during about 30 days.

My opinion is the camouflage Russian navy one of the best coloring in the others. (What do you think?)

I built this model with all restrictions.

In my country is lack of buying facility results from the boycott. The boycott is unfair because that causes hurt to all people not to government. (Specially artists)

About the building materials and materials effects on my Su-33 (or all models). Especially it is very difficult for us modellers here. For example we can not find the color white in my country, Because of U.S. boycott.

I added a weathering on paint scheme with materials handmade by myself. The course is not very good and I don't like, but we forced.
Su-33 Information :
This plane 'Blue 39' is a jet from 2nd squadron 279th KIAP used on Russian Navy carrier RNS Admiral Kuznestov nowadays. Based on design of the classic Air Force Su-27 with a lot of visual differences : twin wheels nose gear, arrester hook, twin duck stab, foldable wings and horizontal tails, retractable IFR probe, shorter tail etc... Su-33 NATO code Flanker D equipped two squadrons 1st squadron with a eagle insignia and 2nd squadron with a siberian tiger head insignia on vertical tails. Built at 24 examples only 19 Su-33 fly today for the Russian Navy. The scheme is the Navy standard for this plane 3 colors upper side 3 blue from lighter to darker, I used XTRACOLOR X602 flanker light, X601 flanker medium blue, X603 flanker blue/grey and underside X602 flanker light. For all radar surfaces I used Gunze flat white H11 and for all internal gear doors and panels Gunze insignia red H327.

For memory the specifications for Su-33 are:
Maximum speed Mach 2.17 at 33000ft (2300km/h at 10000m)

Service ceiling 55800ft (17000m)

Range 3000km

Rate of climb 246 m/s

Thrust / weight 0.83

Maximum take off weight 33000kg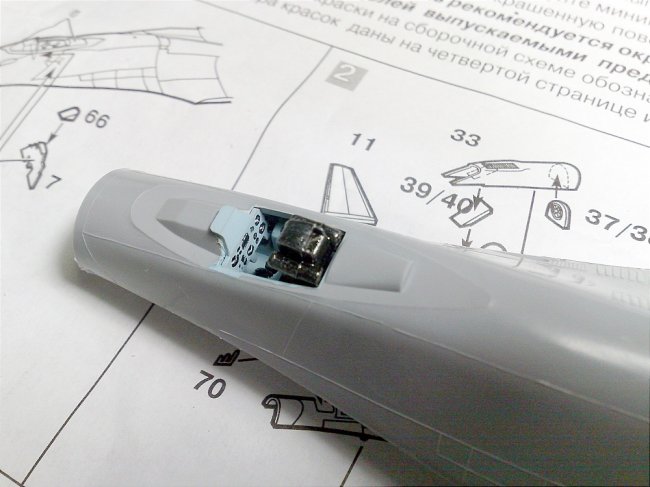 To finish I hope you like my model and I'm really a great fan of the Sukhoi- 27 family.
(Su-33 Information from article by Jean-Charles GODDET)

I hope you like it.
Mohammad Adl
Click on images below to see larger images