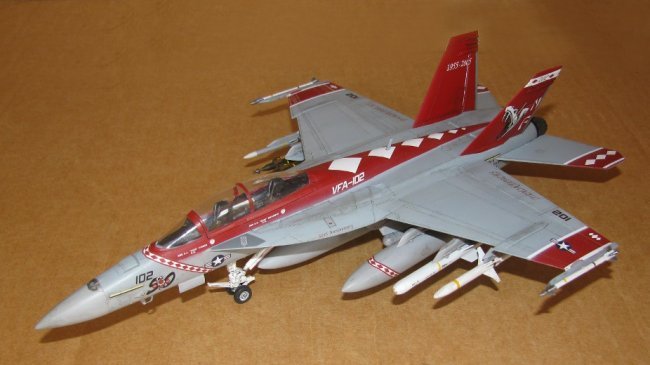 F/A-18F VFA-102 50th Anniversary
I started this project at the end of September 2012. It took me around 10 months to finish. This is by far the longest project I've ever done, mainly due to work and life got in the way.

This is only one-half of the Hasegawa VFA-102 History boxing, that I bought off some online retailer quite a few years ago (can't remember where from). I'm reserving the other kit for a Jolly Rogers build in the future (hopefully not too distant!). This was my 2nd Hasegawa "F" Super Hornet, the 1st one being the vanilla VFA-102 boxing (E18). I did remember some of the pitfalls from my last build, so managed to improve things slightly for this one. Although I still made a few mistakes along the way that I should not have. 

As some of you know, I don't use aftermarket parts. The only aftermarket stuff that I'd entertain is decals. This project was no exception. Except for the GBU-12s, HARM, and the SLAM, everything else was OOB. The GBU-12s were taken from Academy F/A-18C Chippy Ho boxing, the SLAM came from Hasegawa Aircraft Weapons V, and the HARM came from Academy F-16C Thunderbirds boxing. The SLAM was actually all painted and decaled, ready to use, ever since I built my very first VFA-102 a few years ago.
As far as paint goes, here's what I used:
Gunze Aqueous Hobby H308 (FS36375) - lower parts of the aircraft, drop tanks

LifeColor FS36320 - upper parts of the aircraft

Gunze Aqueous Hobby H327 (FS11136) - cockpit frames, spine, vert stabs

AIM-9X Sidewinder - Gunze Aqueous Hobby H311 (FS36622) for the body, Citadel Boltgun Metal for the fins

AIM-120 AMRAAM - Gunze Aqueous Hobby H308 (FS36375) for the body, Citadel Boltgun Metal for the fins

GBU-12s - Gunze Aqueous Hobby H80 (Khaki Green)

Gunze Mr Metal Color Iron & Dark Iron - Burner cans

Gloss coat - Tamiya X-22

Finishing flat coat - Gunze Aqueous Hobby H20 Flat Clear
For weathering, I used predominantly oil wash using cheap artist's oil (Burnt Umber, Burnt Sienna, and Black) highly thinned with mineral turpentine. I also sprayed some Tamiya Smoke sparingly on the rear upper and lower fuselage, especially near the burner cans.

For the wheel wells, because spraying white is always tricky, I used a different tact. I first sprayed Gunze H311. It is very light gray, almost white (more like off-white), but with very good coverage. Once dried, I then sprayed Tamiya Gloss White over it. Worked out pretty well.

Also, in case you're wondering, I used Tamiya Mark Fit on the decals
The in-flight version of VFA-102 was built a few years ago using vanilla VFA-102 boxing (E18). I used purely "mask-and-spray" method for ALL the diamond shapes, except the banner on the nose, which was standard decal from the box.

Thanks for looking!
Michael "Chewie" Choo
Click on images below to see larger images