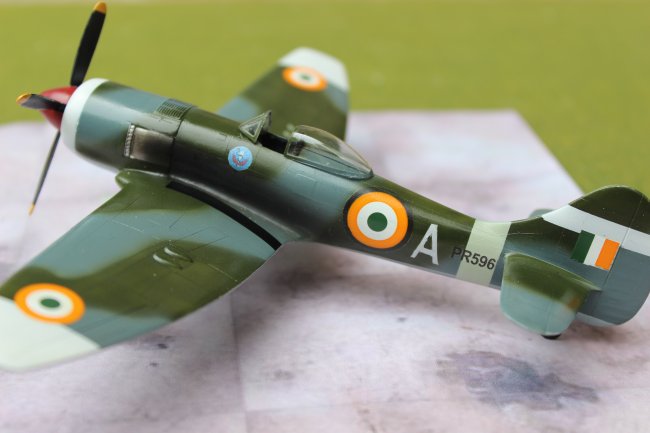 The Hawker Tempest II was the backbone of the Fledgeling IAF and with Special Hobby's IAF Box kit out in the market I just had to make one. A Group build with this was icing on the Cake. Special Hobby has two IAF markings included an aluminum finish with Black wing tips and a camo with the Battle Axes Squadron. Being the Last to finish our group build left me with little options. Also not one to go with the easy path, the scheme that caught my eye was a No3 Squadron "Cobras" Tempest. This Aircraft is said to have been flown by Flt Lt Randhir Singh up till June 1947. It had a Red Spinner from No3 Squadron and had its IAF roundels with an outline of Dark green. (Other Than RAF Dark Green) The SEAC White bands on the Tail, nose and wings were carried on from its RAF career. The Cobra Squadron logo is just below the cockpit.
Paints used were Testors and Model Master. The exhaust was a mix of grime and Tamiya smoke. The model has been pre-shaded with black and a faded white base over Alclad Micro primer and filler. This kit needed to have the tops of the wheel wells almost sanded clean off and the base of the cockpit sanded thin as it can get to fit in the space. Once I got past that the rest was pretty straightforward. The kit decals are very fine and thin, so to prevent camo showing through I have masked and sprayed a series of circles as a base. The fuselage Roundel having the Dark green sprayed in a ring bordering the White base. The canopy was Vacform single piece. I tend to prefer my canopies open as though its ready for me to go fly, so I used a new Xacto to score and separate the windscreen from the canopy. I do although think the canopy is a little too high for a Tempest II and should an aftermarket canopy for this come available I would definitely replace this canopy. Decals were kit stock for the National insignia. The Squadron Logo aircraft serial PR596 and the Aircraft letter A was printed with Inkjet and Testors decal.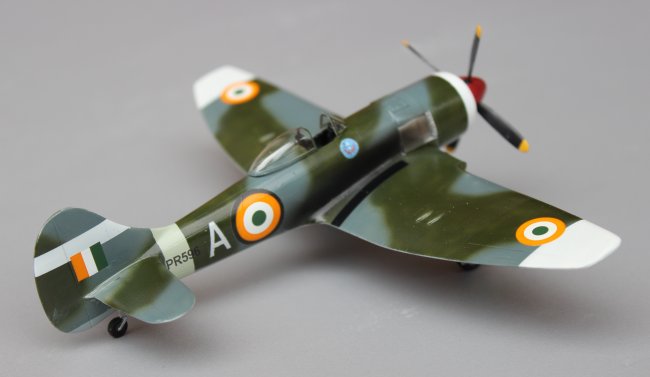 This was one of my very satisfying builds. It is a trying kit which turns into a passionate build with each stage getting easier than the previous. I initially planned on heavy weathering and thus the white base. But after seeing what a beautiful model the Tempest truly is I didn't have the heart to send her to the elements. So here she is pristine as she was in her Heyday. Also another point to note is that since this aircraft was written off in June 1947 it would hardly have had much time to weather under the Indian Sun.

So here is My Hawker Tempest II in IAF Service from my favourite IAF Squadron 3 Squadron Cobras.
Navin Bala