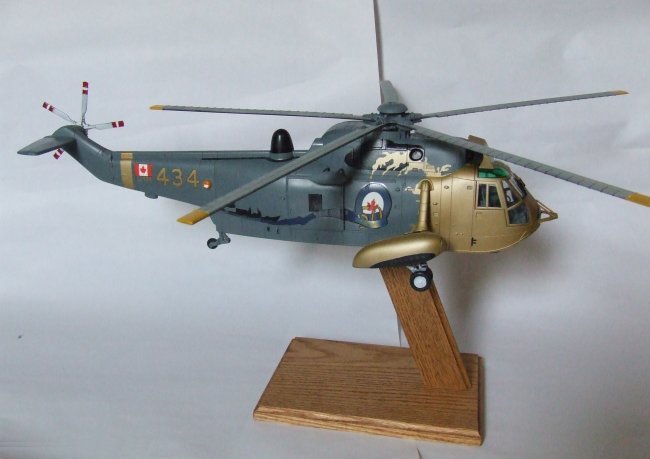 Once again, I bring you a Sky Pilots Sea King. At 1/32ish scale they make for a decent desk-top model, although lacking in many qualities we have come to expect in something this size. However, at $20 a pop you have to take what you get. Anyhoo, after all the standard mods (radome, crash beacon etc) the biggest effort on this example came in the form of the paint scheme...
The aircraft represented here is a bird out of Shearwater, Nova Scotia, and was painted to celebrate 50 years of flying Sea Kings. To be clear on this, the aircraft flying are the original aircraft purchased in 1963. I won't vent my opinion here, just show off the goods.
The gold was masked using a side picture, then carefully removed to template the other side. I spent many hours photoshopping the artwork for the decals from a label printed off by Matt Lake, who was extremely helpful in pulling this off. I still had some problems with the fit, but overall the response to it at work was "wow". The stand is oak, and the model is being presented to the departing CO of one of our units. Lucky or what...
Harv