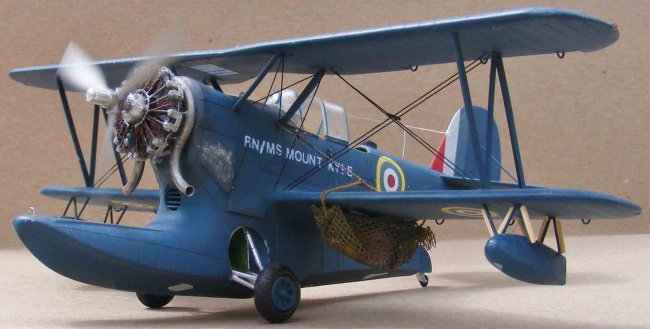 This is Murphy's "Flyin' Lavatory", his dynamite enhanced gasoline bombs primed and ready. The engine is cranked up for a test run before Louie lowers him into the water to find that "Flammin' submarine".
This is an extensively modified and reworked Airfix kit, with a good deal of spares contributions, scratch built and after market parts. The tail surfaces were repositioned. The ailerons were replaced with items made from Italeri helicopter blades, with wire hinges and replacement actuator covers. The trailing edge of the wings was thinned down. Other detail parts were added or removed as necessary. "Murphy" is a posed figurine, with limbs from several unused pilots, and a floppy vac formed hat. The out board wing struts had to be lengthened and re-angled to produce the correct dihedral. Their cross section was also reduced. The wooden bracing on the port float is made from a whittled down bamboo tooth pic.
The model was completely re-scribed. All panel lines were highlighted with a white marker. The paint is a lightened Testors dark sea blue, with some silver dry brushing and BMF for chipping and peeling. Powered pencil lead was used around the engine. To produce a sun weathered effect, the upper surfaces were given extra heavy highlighting. The roundels are scaled 30 and 34 inches and painted on. The lettering is Woodland Scenics dry transfers, applied to clear decal film. The wing patches are white decal film with some blue marker lines, which the application chemicals blurred to good effect.
The gasoline bombs are made from 6V light bulbs (I'LL bet that's a first) and glass tubing attached with CA glue. I reshaped lead weights to make the dynamite bundles. The netting, a lucky find in a bundle of rags, was painted with Tamiya Khaki. It's very in scale.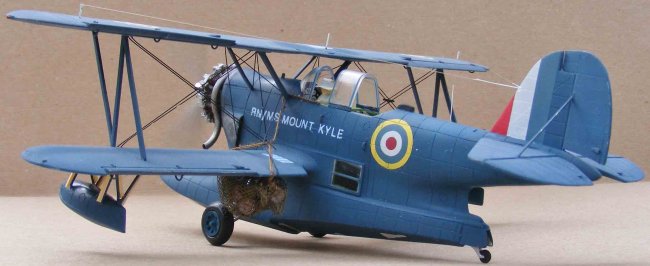 The engine is an Aries R 1820, with modifications to more closely represent the engine on the "movie aircraft". The exhaust ring is scratch built from brass tubing. Brass rod and tubing was also used to a shaft and bushings for the Monogram P36 propeller and Academy PBY spinner. It was spun with a jet of air for the photos.
Phillip Steele