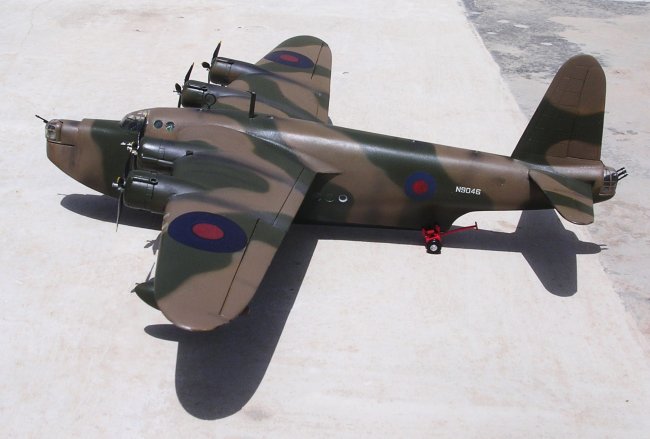 Short Sunderland

History
The Sunderland flying boat was the RAF's longest serving operational aircraft. It was first delivered to No 230 Squadron in Singapore back in June 1938. First flown on 16th October 1937 and was powered by 790hp Pegasus X engines. It entered production with Pegasus XXII and a revised nose and tail armament. By 3rd September 1939 forty were in service with four RAF squadrons. Ninety Mk1s were eventually completed including fifteen built by Blackburn.

At the end of 1941 the Sunderland Mk II began to replace the Mk I. These were powered by Pegasus XVIII engines; with two stage superchargers; a twin gun Botha-type dorsal turret in place of the 'midship gun ports; an improved tail-turret and ASV radar. Rising operating weights now necessitated redesign of the hull planning bottom, and the Mk II on which this was tested thus became the prototype for the chief production model, the Sunderland Mk III. The first Short built Mk III flew on 15th December 1942 and 286 were produced and a further 170 built by Blackburn.

Mediterranean theatre of operations.
The roles of islands of Gibraltar and Malta were critical to allied strategy and survival in this theatre during the war. Two aircraft left Pembroke Dock for Malta on the 29th of April 1940. The outbreak of war saw three Sunderlands at Malta and four more aircraft moved to Malta on the 9th of September. The following day four Sunderlands flew back to Pembroke Dock.

With the outbreak of war Sunderland flying boats based in Malta achieved a number of successes against axis shipping and submarines and keeping a watch on movement of the Italian fleet. While performing these missions Sunderlands were also frequently jumped by Italian CR-42s and Macchis, often shooting down the intruders for the cost of injured crews and damage to the aircraft.

Mediterranean Sunderland units were involved in first major battles between the Royal Navy and the Italian fleet. In one such incident taking place during the day, Flight Lieutenant Woodward of 230 Squadron attacked and claimed a hit on an Italian Submarine (probably Zoea), while Squadron Leader Menzies was fired on by anti aircraft and engaged in a 30 minute running fight with an He-115, which eventually broke off. Three days later Menzies attacked and claimed to have sunk an unidentified Italian submarine (probably Settimo).

Sunderlands did not always have things all their own way. On 25th July a Sunderland, flown by Flt. Garside was attacked by three Fiat CR-42s. The crew shot down one of the biplanes and scored hits on another. The aircraft itself was heavily damaged and just struggled back to Malta. On 28th July another aircraft was bounced by three Macchi 200. Its crew claims to have shot down one and forced another to break because of damage. Sqd Leader Riley was less lucky with three gunners being wounded during an hour-long engagement with four Macchis. The Sunderland struggled back to Malta where it was beached to avoid sinking.

On 17th September a Sunderland flown by Sq Leader Menzis turned aggressor when its crew claims to have met a Cant Z-501 flying boat and shot it down in flames. 230 Squadron Sunderland continued to monitor the Italian fleet. Skirmishes and tales told by crew continued throughout the war also while protecting convoys on their way to Malta.

Incidents also involved Sunderlands being directly attacked at their bases in Malta. During March and early April 1941 four Sunderlands were strafed at their moorings at Kalafrana base and at St Paul's Bay. Two of the flying boats being destroyed by Oberleutenant Jouchim Munchenburg. One such victim of an air raid on Kalafrana was a 228 Squadron Sunderland L5807 which caught fiercely after such attack.

This all happened when on the 7th of March Sunderland L2149 of 228 Sq was attacked at its Kalafrana moorings by two Bf109s. Sgt Jones acted as boat guards and managed to get his Vickers gun into action before being fatally hit. The Sunderland was badly damaged but it was in trouble again later during another similar attack. Sunderland L2164 was damaged and T9046 caught fire. A party boarded the latter aircraft, which apparently got the fire under control but after an interval blazed up again. The aircraft was taxied and beached, but had to be abandoned and ultimately sunk.

L2164 was flown to St Paul's Bay and moored at the Mistra inlet of the bay. On the 10th of March it was attacked and set alight by two Bf109s from 7/JG26. The Sunderland had been rendered immobile during the strafing attack by the Messerschmitt that belonged to the same Staffel, 72 hours earlier. The aircraft sank when efforts were made to tow it ashore. In 1964 myself and RAF flt sergeant Elliott dived at the same location at Mistra sea and at around 18 feet of depth recovered a piece of Sunderland hull; which we sent to Short brothers in Ireland who confirmed that it came from a Sunderland, but said they had no other records. They also sent us drawings of the retrieved part that confirmed it came from part of the hull.
The kit
Name: Sunderland Mk 111, converted to a Mk1.
Make: Airfix kit 6001 with Pavla resin sets C72-115, U72-142, U72-143.
Scale: 1/72

Injection molded in thick white plastic with heavy rivet detail all over the surfaces of kit parts, a hallmark of Airfix early kits. It is a big size model and contains around 152 kit parts. These include beaching gear parts as well as all the clear parts. There are bomb racks for 4 bombs that slide from inside the fuselage under the wing root. Crew figures are included for the cockpit office, which is sparsely represented, and for the three rotating turrets. Stage-by-stage illustrated instructions make it an easy build in spite of its size. Decal sheet for one camouflaged Sunderland Mk III in temperate maritime scheme is supplied.

Conversion of the Mk III into a Mk1.
Conversion incorporates three basic tasks all of which are visible on the outside. New engine cowlings, propellers, new cockpit canopy and full interior are supplied by Pavla Models who make sets for enhancement of the new kit recent release by Italeri. Then there is removal of the upper turret, which is blanked, and depending which particular mark that one makes may add upper side open turrets, and also an additional fuselage side window. There is also alteration to the staggered hull area. The thickness of kit plastic may allow the reshaping of this area.

Construction.
All the oversize rivet detail is first sanded down to a smooth surface. The first stage is to assemble and paint the detailed upper crew deck C72-115 that contains floor, crew seats, detailed bulkheads instruments attached to side consoles, which when painted and fitted in place of kit parts will be complete with a clear vac form canopy that comes in same set. An additional round porthole is added at the fuselage centre making a set of three in place of existing two. The extra window added at the rear with same spacing and size as the previous two.

The lower hull also differs on the Mk1 and should have a much sharper edge at the stagger area. The area on the Airfix kit fuselage parts is not too far from what it should be though more attention should have been given to this area than I did which in my view it was going to be black underside and all the extra work will not merit as it is not appreciably visible. Looking hindsight I should redo this area, which is not too much a hassle. The upper turret was deleted and the area blanked with a piece of plastic card and faired with a little filler before smoothening it.

The rear part of beaching gear had detail missing which I then added after referring to Warpaint book No 25 that is dedicated to the Sunderland. Other detail on the kit was the repositioning of the antenna mast and added a loop aerial on the upper of forward fuselage. Three portholes were also drilled and shaped to the roof and another one to the rear underside. These were same size as the fuselage side portholes.

The engine cowlings suited the kit very well and the only modification was required to the wing, which had the engine exhaust at the side of cowling and the outlet at the leading edge area near the inner port engine area. Radial engines were picked from spares box and made to fit inside the resin cowlings from set U72-142. Butt jointed propeller blades formed the four sets of three blade props for the Mk1 Sunderland. These came with set U72-143. Rigging for the wing floats was made from 0.3mm nylon fishing line.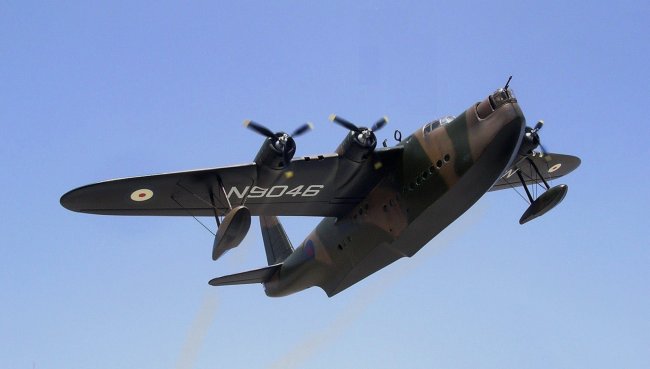 Painting and decals.
Being one of the very early versions of the Sunderland Mk1 I went for the dark earth and green camouflage upper and black all undersides. Decals came from ESCI set to represent N9046 during the early stages of the war. This flying boat was damaged beyond repair at Sullom Voe in December 1940, an inlet between North Mainland and Northmavine on Shetland in Scotland. Today this place is an important oil terminal.

Conclusion
The conversion was thought to be seemingly tough but it was not and I highly recommend it to all those many modelers who have the Airfix Sunderland in their stash and would like to make something different.
Carmel J Attard
Click on images below to see larger images