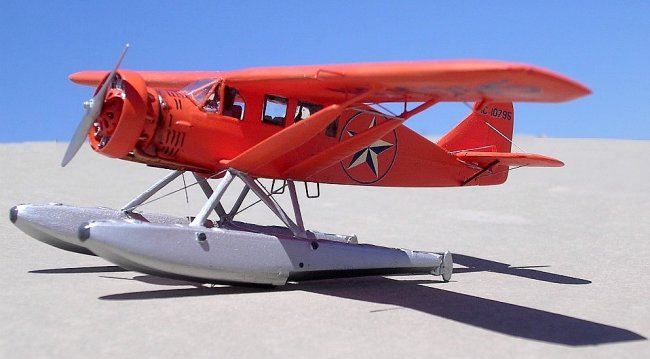 History
The interesting origin of the Bellanca aircraft takes us back to March 19th 1886 where in the village of Sciacia in Sicily was born Peppino aka Giuseppe Mario Bellanca. He received his secondary education at the Instituto Technico di Milano where he earned his education certificate to teach Mathematics. At 24 he earned a degree in math and engineering from the Politechnico di Milano. It was the period that followed that Giuseppe along with two partners built his first plane. This was destroyed in the first flight. His second plane never flew because the partners could not afford an engine for it. In 1911 he and his family moved to the United States, settling in Brooklyn. Bellanca taught himself to fly on his third plane design and in 1912 he started the Bellanca Airplane Company and flying School. Subsequent successful designs led to the famous Wright-Bellanca WB-2 renowned for the New York-Germany flight in 1927. This led to the CH-series of strong light simple and docile workhorses that includes the Pacemaker and Skyrocket among the list of planes perfectly suited for 'Bush' operations.

The Bellanca CH-400 Skyrocket evolved from the CH-300 Pacemaker. The Skyrocket was originally intended to be more a 'sporting' plane for the wealthy customers who demanded speed as well as comfort even during the Great Depression. Its superior performance also attracted the attention of commercial operators and Skyrockets soon found their way into some of the more demanding airline routes and into Alaska and the Canadian bush where power meant payload. Early owners included movie stars, the US Navy, US Marines and Colorado-Utah Airways. By the mid-1930's, outfits such as Alaska Star, Wein, Alaska Air Transport and Teadwell-Yukon Mining Company were putting the Skyrocket to work. The CH-400 filled niches now occupied by a diversity of aircraft from DH Beaver to luxurious business jets.


The kit
Bush planes fall into a class of aircraft of their own. Some of the early types, of the 1920s and 30s era are among the emerging range of kits issued by Khee-Kha Art Products of Wasilla, Alaska. These are the pioneering bush planes made in white vac-formed styrene with resin detail parts that include the engine, propeller and other small detail parts. Khee-Kha also makes a series of floats issued as separate resin kits to suite different types of bush planes. Those who have tried their hands on vac form kits before will have an interesting surprise if they expand their range of interest also to bush planes in same way I did. The Bellanca CH-400 is pressed on a single sheet of plastic that includes all the basic airframe and wings. The main planes, tail planes, fin and rudder areas as well as twin under wing supports have fine ripple detail to surfaces and the fuselage sides have depressed lines to indicate the position of the side passenger and crew windows. There are optional wheels as well as floor, bulkhead and seating pieces, and instrument panel. Other smaller items like strut for floats, control surfaces links, have to be scratch built possibly from the surplus backing plastic which is soft and ideal to work with. The instruction insists that only liquid cement is recommended and that in case of over trimming of parts these can easily be corrected with same scrap styrene and little liquid cement.

The instructions are well done, come in 10 pages, includes scale plans for the land based and floatplane version, as well as a side view for the ski-version. They are easy to follow taking the builder through each step of the construction process. There are also several helpful hints to assist construction that I found very useful. No decals are provided but a link to Whiskey Jack decals on the website is suggested. Alternatively one may decide on some optional side view schemes suggested that includes also a US Navy XRE-2, which is light gray overall with yellow upper wings and aluminium accessory section, for those that wants to stick to military subjects.
Construction
Parts were first highlighted with a pencil and the vacform parts separated with a sharp knife breaking along edges of parts. Trailing and leading edges of wings are straight and a straightedge was used to guide cuts. Parts and scrap pieces were then stored in separate containers. Fuselage sides were cut, these were made from 4 parts and their edges were cleaned on a sanding board. Wing trailing edges and tail parts and airfoil struts needed extra attention. All edges were trimmed close to level of backing sheet's surface with a hobby knife followed up with a coarse sandpaper before final smooth sanding of all mating surfaces on medium grit sandpaper.

The instruction recommends a stepped guide piece, which I found very useful to assist in marking spacing of reinforcing strips. Window openings and wing spar cutouts were drilled and cut. The kit supplies sufficient clear acetate but I preferred to apply Kristal Kleer at a later stage for the window panels. The roof of the cabin is curved and to assist this shape to be retained I added short reinforcement strip pieces with spacing in between using the guide. The front louvered accessory section made of three separate panels were then cut and glued together. This was tested for fit to the rest of the fuselage. There is a roof skylight, which I left closed on my CH-400. Once satisfied with fit and alignment of parts I proceeded with detailing the interior. Seats and instrument provided were fixed and fitted in place followed by careful painting. Instrument panel was beveled at 45 degrees around its top edge and was glued to the 3-piece accessory section. The interior colours I used were tans and browns with black instrument panel. A section drawing in the instructions showed the seating arrangement with respect to the windows. This was referred to during fixing of the cabin compartment. The accessory section sub assembly was joined to the fuselage using short reinforcing strips. Scoops and vents were installed according to scale plans. Clear windshield that comes with the kit was carefully cut with a pair of scissors and fitted using white glue; any excess cleaned using a dump cloth. The cantilever wings were now slid onto the wing spar. The wing underside just cleared the top edges of the doors. The spar was of square section made out of scrap plastic in two laminated constructed strips. Using the plans reference I installed the short cantilever struts at forward strut locations. This added strength to the wing fuselage joint. The engine speed ring was now sanded at its edge and cut as per instructions and the engine inserted inside.

As I opted to do the floatplane version of the CH-400 I followed advise from Lars Opland himself of Khee Kha Art Products on how to go about producing a suitable set of floats. I therefore used a set from the Academy Beaver kit and modified the 58-4580 twin floats into a Xa-5400 suitable for the Skyrocket. This involved adding a 0.040inch thick slab to stern of each float and extend step aft. (Several exchanges of e-mails with Lars gave me the impression that there is a vast classification of Float design and types and an expert advice proved to be very helpful) The 0.040-inch is a styrene strip that goes full length of deck. This was then trimmed flush with sides after gluing. The bow and stern of float was filed down to original deck, gently rounded to full thickness centered just forward of step. Struts were then made from Contrail strips. The struts at 1/72 scale were 25mm apart and aft mount is 6.5mm behind step. The 'N' shaped strut arrangement was mounted on float close to edges. Reference was made to photos of these floats.

With the floats fixed to the aircraft my attention then went to fit all the control surfaces links and wires as well as bracing wires that strengthen the floats assembly. These I made from 0.01mm steel wire cut to required size and glued in lace.

Colour scheme and decals
Being attracted by the bright international orange overall finish of the CH-400 I opted to do the CH-400 in Whisky Jack special decal, issue AK 7203. The Bellanca Skyrocket was well known as a bush plane in far away cold Alaska and its popularity was another reason why I chose to make my model in a livery of Star Air Service/ Alaska Airlines. Stephen Mills, Jack Waterworth and Charles Ruttan founded star Air Service in 1931. It was in 1934 when Star Air Service purchased competitor McGee Airways fleet that then became Alaska's largest airline with a mixed collection of 15 aircraft among which was the Bellanca aircraft. The CH-400 Skyrocket NC 10795 formed part of the fleet. The international orange livery made the plane easily recognizable once the quiet mountains environment was broken by the sound of the 4200 hp Wasp C-1 engine.

The decals are printed on a solid carrier film and un-coated so care will be needed when cutting out individual designs. It is also recommended on the decal instructions to apply a clear coat of Future over the decal before work begins. The decals went on very smoothly on the model. Kristal Kleer was in the end applied to the window apertures.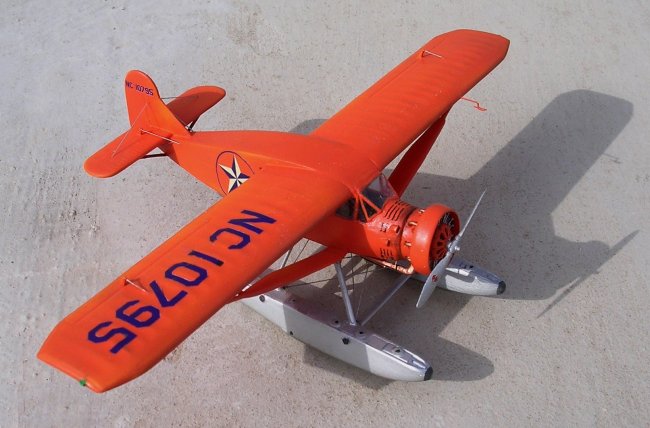 Conclusion
It is not often to come across a review of a kit by a cottage industry that goes to some detail. All that the construction entails is mentioned and I have since also built the predecessor the CH-300 Pacemaker and the final result of both builds turned quite pleasing and of a different category of models that I am normally accustomed to build. I highly recommend this kit to all those floatplane owners/modelers who frequent the lakes up north far away in Alaska and Canada area.
Some pictures shows both the CH-300 Pacemaker and the CH-400 Skyrocket
Ref:
All reference material issued by Khee-Kha Art Products, and special thanks to Lars Opland for sending it.
Carmel J Attard
Click on images below to see larger images