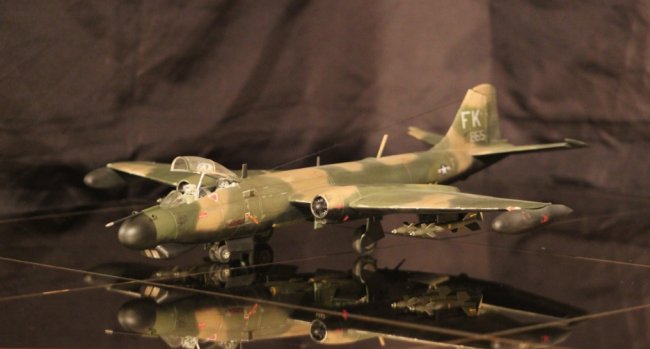 Hey there, this is my Airfix B-57G Canberra Night Intruder. The kit comes in a huge box and builds into a big kit. Due to the fact that it needs lots of lead in the nose and has lots of plastic on it, it is very heavy.
The details are really poor for a kit in this price range. The cockpit is a shame. The panel lines aren't raised, but are very deeply engraved and very wide. Almost half of the plastic is for the British version, including various British bombs, rockets and even the longer British bomb bay.
I used the cockpit as a "blank sheet" and rebuilt the panels an the side consoles. I also added detail to the ejection seats the "G"-Model had.
I added riveting on the outside lines and added some wiring in the wheel and bomb bay. The Laser guided bombs from the kit are very ugly...I used those from the Hasegawa weapons kit. I also exchanged the original kit's M117 bombs with the Hasegawa's.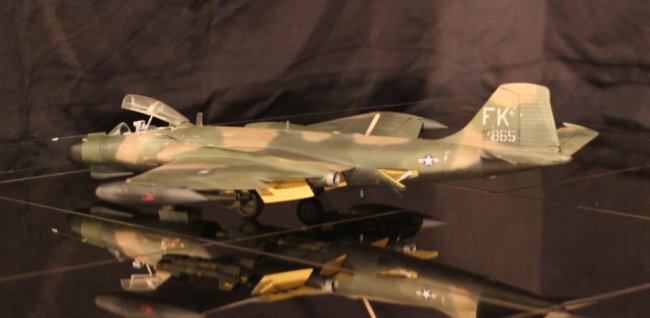 Like with the F-105, I sprayed some areas in aluminium and covered them with MicroMask before spraying on the SEA sheme. After the Camo paint is dry, I just peeled of the MicroMask and voila..you got the effect of chipped-off paint.
Painting was with mixed Revell and Tamya Colors.

Hope you like the Pics.

Have a nice day
Philipp