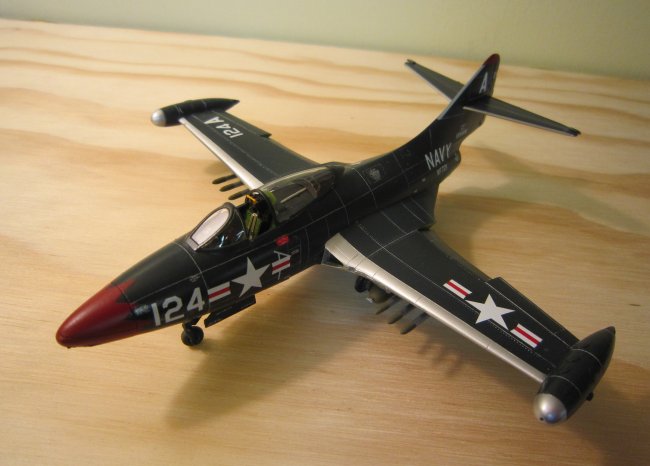 This is a recent build of the new Hobbyboss version of the Panther, which updates the old but still servicable Hasegawa F9F-2 version. Hobbyboss has included accurate indented panel lines, more detailed parts, and a nice fit of parts. There is a nice Eduard resin cockpit and ejection seat available. There was much thinning and trimming of parts, to bring them closer to scale , the wheel wells had added wiring and connection boxes added, the flaps and elevators were lowered, the rudder turned, and the front wheel turned, for a more active stance. The windscreen and canopy were dipped in Future, which added great clarity to the clear parts. The tail end was modified with carving to bring out detail around the jet exhaust and the arrestor hook. The panel lines were all scribed deeper, to outline them more distinctly.
The model was airbrushed with a single action gun, using very thin Model Master Glossy Sea Blue. The cockpit and wheel wells were painted interior green with black consoles. the 5 inch rockets are painted aluminum with olive drab nose cones, in the style of Korean war aerial rockets. The outline of the Hobbycraft kit is very accurate and the finished product is a satisfying reproduction of Grumman's first jet. Panthers were mostly kept in fairly good condition, so the model was not heavily weathered. Panel lines were defined more prominently with a sludge wash - acrylic dark grey mixed with dishwashing detergent and applied to the panel lines, allowed to dry, and rubbed with Q tips to remove excess sludge. The Panther did not turn out to be an exceptional fighter, but it served well through the Korean war as a ground attack aircraft.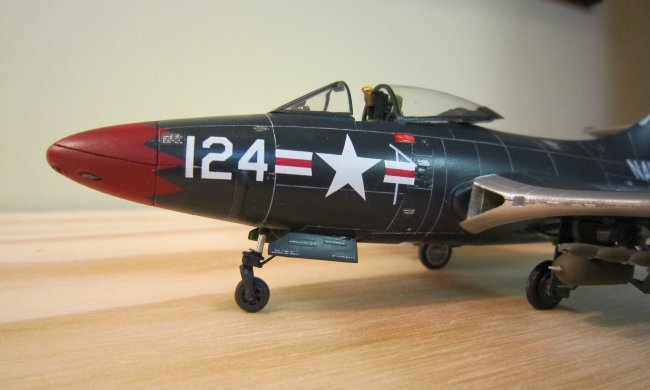 Construction began with the cockpit, and a number of shots are included of various stages of the build.
Enjoy -
Donn A. Wells M.D.