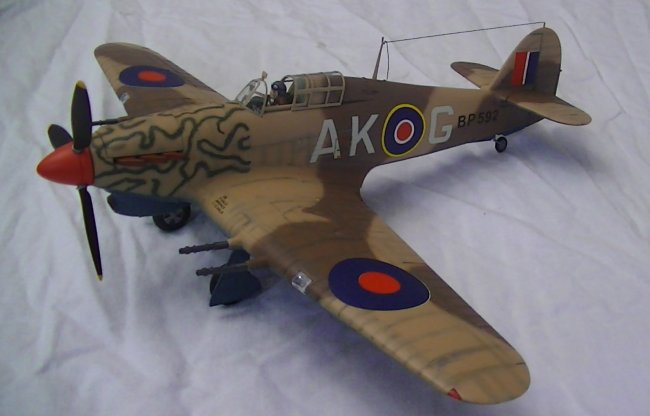 Hello again and this model was completed on December 2012. This one depicts a Hawker Hurricane flown by an unknown pilot from an unknown squadron as the instructions offered no information at all about this particular aircraft. This is a pretty old Revell Model (1988) and to my pleasant surprise, it was a rather well fitting mold offering no major problems during the build. It was an OOB build and I used Model Masters, Humbrol, and Tamiya paints to paint the desert cammo scheme. The underside of the aircraft was painted medium blue, and the top colors included matt earth, matt dark green, and matt desert sand. The propeller spinner was a 50% combination of matt red and matt yellow. I pre-shaded the panel lines with black paint and due to the light upper colors it really shows through the lighter colors of the camo scheme.
The only improvements made on this build were drilling the cannon tips to add realism and adding the antenna wires made out of very fine fishing filament line. I added the squiggly lines depicted in the front of the aircraft as shown in the cover box of the model. Although I like the looks of it a lot, my family turned out to be haters of it (oh well I still like them ;-)).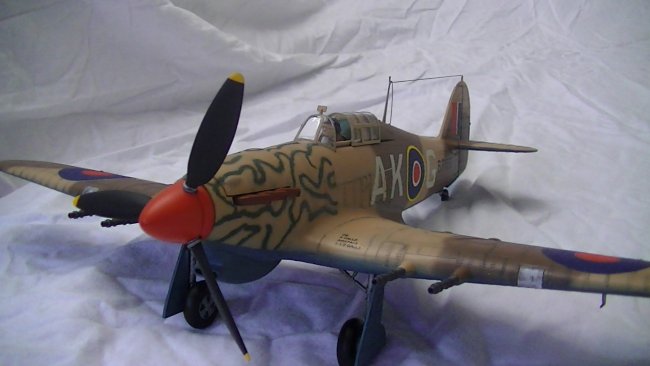 The biggest challenge that I had during this build was the condition of the decal sheet. As it was a 1988 kit, they were pretty dull and bristle looking and I had no real hope to be able to use them. As I failed to find a suitable replacement, I decided to treat them by applying the Micro Scale decal film restorer (two coats). That stuff really worked beyond my wildest expectations and "renewed" the color and texture of the decal sheet. I only lost two minor decals during the build as they fell apart even after applying the Micro Scale liquid. The big drawback of using the liquid is that every decal has to be trimmed down before applying it, but the results were well worth the time and effort. Had I not pre treated the decals with it, all of them would have disintegrated as soon as I dip them in warm water. All things considered, this old kit came together rather nicely and in my opinion it looks great. I hope you enjoy the photos and a different look of this venerable WW II aircraft.
Victor De Jesus